Suramadu National Bridge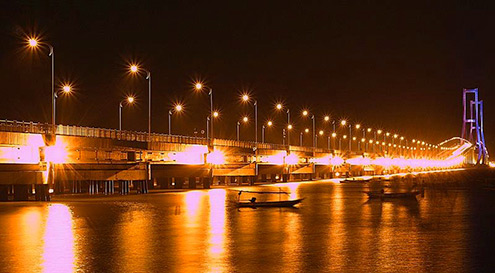 Suramadu national bridge is is the bridge that crosses the Madura Strait, connecting Java island (in Surabaya) and Madura Island (in Bangkalan, exactly east Kamal). It has length of 5438 m, and makes this bridge become the longest bridge in Indonesia today. At early construction the bridge was inaugurated by President Megawati Sukarnoputri on August 20, 2003 and its opening was inaugurated by President Susilo Bambang Yudhoyono on 10 June 2009.
This bridge was built in case of developing the economic structure of Madura Island, which is relatively low compared to other regions in East Java. Suramadu Bridge is consist of three parts, which is the causeway, the approach bridge, and the main bridge. The Causeway was built to connect the construction of bridges by road through shallow waters on both sides. Approach bridge connecting the main bridge to the Causeway. While, the main bridge consists of three parts: two side spans for about 192 meters long and one main span of 434 meters.
The main bridge using a cable stayed construction supported by the twin towers for about 140 meters. And the main bridge deck is using composite construction dor 2.4 meters thick. To accommodate the cruise ships crossing the Madura Strait, this bridge are provides free space for about 35 meters above sea level. This part was caused the restoration becomes more difficult and hampered and pend more cost for it.
This is also the first toll bridge in Indonesia, which is initially set at Rp. 30,000 for four-wheeled vehicles and Rp. 3,000 for two-wheeler. Now the possibility to access Madura Island is easier to reach and do not need much more time to get. The visitors will experience the great moment crossing over the ocean and see the blue Madura Strait coming over. At night, the bridge is become more pretty for the moving and colorful light is like the dancing fountain over the sky.
Photo Gallery

Latest News
Indonesia is not only rich in cultural diversity. However, there are various historical stories from the city of Heroes, Surabaya. We can find stories about the history of this nation from movies, books, fairy tales, songs and even tourist spots. This of course makes Surabaya, a city with various stories. In addition to make visitors more familiar with the history of the Indonesian nation, Surabaya is a space for education and remember about what the beginning of the existence of Surabaya and all other unique buildings. Maybe from here, we…
---
When you arranging a vacation trip out of town, did any of you include the hero city of Surabaya on your visit list? It's likely that many of you will say no. This is because Surabaya is indeed not known as a tourist city. Even the residents themselves also admit that Surabaya City of Heroes has short destinations. Even though Surabaya is the second largest metropolitan city in Indonesia after Jakarta. Realizing the importance of the meaning of soul's relaxation for the Urban, who are daily filled with various kinds…
---
Impeccably designed, the spacious comfort, personalized services and extensive facilities, provided at Puri Darmo Serviced Residence offers you an opportunity to relax and enjoy your business travel, leisure vacation or relocation in Surabaya. The residence is designed for the international executive and family, with business and recreational facilities as well as educational facilities. Spacious and stylishly decorated, each apartment offers comfortable living as well as modern amenities. Ideal corporate housing for long or short-term project assignment in Indonesia, the residence offers a welcome and refreshing alternative to the hotel or…
---
Pondok Asri Guest House is a family guest house that located at Jl. Kalibokor Selatan 108 Surabaya. This family guest house is available for family or standard single guest, with valuable facilities like : Room Facilities :AC, TV, Phone, Bath Room / Showwer Laundry Service Room Service (16 Hours) General : Safe Deposit Box Credit Card accepted Breakfast, Lunch, Dinner Car for rent can be arranged upon request Extra Bed : Mattresses on the floor or ring extra bed For More Info, please contact: Pondok Asri Family Guest House Jl.…
---