Four Faced Budha
---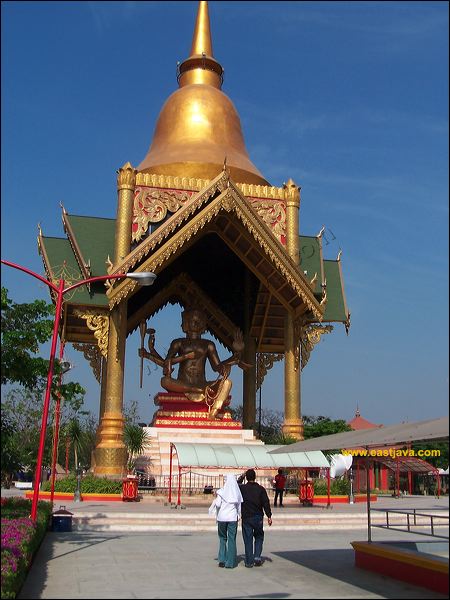 One of Surabaya tourism objects that is quite popular in South-East Asia is Four Faces Deity Statue or Four Faced Buddha monument. The Buddha Monument gets appreciation from MURI as the biggest and tallest Four Faces Deity Statue in Indonesia.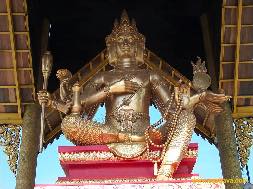 The Four Faced Buddha monument has a total 36 meters (including dome) height. It is opened for public on 9 Novembers 2004, and it consumed ±4 billion rupiahs. It is built in farm with a width of 1,5 hectares, inside a building with length 9 meters, wide 9 meters and height 36 meters. If we see altogether, it contains of number 9, beside it referenced by similar monument in Thailand, the number 9 is also has special meaning for Buddhists.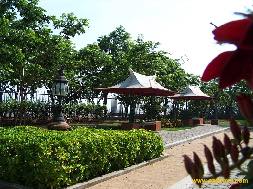 Looking at this building design, it looks similar to Four Faced Buddha Monument in Thailand. The difference is only on the height of the statue, Thailand statue is taller but Surabaya monument has smaller building. Besides the resemblance of the measurement, the statue also has four faces and four hands, it totally gold-coated on all of its body. In order to do a perfect gold veneering process, kampoh material or original gold paper were imported from Thaila.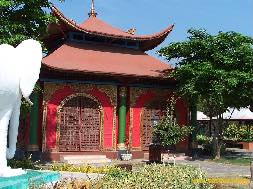 The Four Faced Buddha statue symbolized four philosophy kindness owned by Buddha, those are patience, liberal, fair (unbiased), and meditated. This four kindness is also had a meaning of Buddha, as the presentation of affection of fellow being, it assists whoever without discrimination, and devoted in prayer or application that submitted in ritual procession. On Buddha eight hands there are holy book, holy water, and defense weapon to fight against the badness, holy book, prayer beads, chest, and cupu.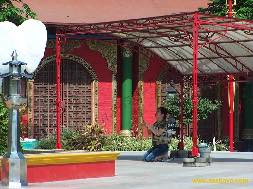 Besides the philosophy, this place is also the center of Buddhists observance. Other than the four faced deity statue, there are also four 4 meters high white elephant statues in every corner, three lotus decorative pools, and a meditated space. The complex is decorated by 12 lamps made of bronze and copper.
Photo Gallery

Latest News
Indonesia is not only rich in cultural diversity. However, there are various historical stories from the city of Heroes, Surabaya. We can find stories about the history of this nation from movies, books, fairy tales, songs and even tourist spots. This of course makes Surabaya, a city with various stories. In addition to make visitors more familiar with the history of the Indonesian nation, Surabaya is a space for education and remember about what the beginning of the existence of Surabaya and all other unique buildings. Maybe from here, we…
---
When you arranging a vacation trip out of town, did any of you include the hero city of Surabaya on your visit list? It's likely that many of you will say no. This is because Surabaya is indeed not known as a tourist city. Even the residents themselves also admit that Surabaya City of Heroes has short destinations. Even though Surabaya is the second largest metropolitan city in Indonesia after Jakarta. Realizing the importance of the meaning of soul's relaxation for the Urban, who are daily filled with various kinds…
---
Impeccably designed, the spacious comfort, personalized services and extensive facilities, provided at Puri Darmo Serviced Residence offers you an opportunity to relax and enjoy your business travel, leisure vacation or relocation in Surabaya. The residence is designed for the international executive and family, with business and recreational facilities as well as educational facilities. Spacious and stylishly decorated, each apartment offers comfortable living as well as modern amenities. Ideal corporate housing for long or short-term project assignment in Indonesia, the residence offers a welcome and refreshing alternative to the hotel or…
---
Pondok Asri Guest House is a family guest house that located at Jl. Kalibokor Selatan 108 Surabaya. This family guest house is available for family or standard single guest, with valuable facilities like : Room Facilities :AC, TV, Phone, Bath Room / Showwer Laundry Service Room Service (16 Hours) General : Safe Deposit Box Credit Card accepted Breakfast, Lunch, Dinner Car for rent can be arranged upon request Extra Bed : Mattresses on the floor or ring extra bed For More Info, please contact: Pondok Asri Family Guest House Jl.…
---