Ciputra Waterpark
Ciputra waterpark is a biggest waterpak in Indonesia and even in Southeast Asia. Located in West Surabaya, and it was built by the Ciputra Group Company in Citraland areal.
Ciputra waterpak is a family recreation that accomodate water attractions and games. There is Sirens River, Chimera Pool, Marina Lagoon, Sinbad Playground, Roc Tower and Syracuse Beach. The opening hours daily. On Tuesday to Friday is start from 14.00 – 19.00. While on week end and holiday it is start from 08.00 – 20.00. There are also available packages like outing plus package, gathering package and birthday package.
There are some option to choose the fun at Ciputra Waterpark, those are:
Roc Tower Thunder Ride
A 15 meters of black hole slide a challenging 15-meter tower skating packed with tension. Guaranteed to make all who try addicted.
Marina Lagoon
A 40cm depth children pool. Marina Lagoon provides playing facilities for children, such as small skating games and bridges. Here they have the opportunity to learn to socialize and make new friends through their imaginative adventures.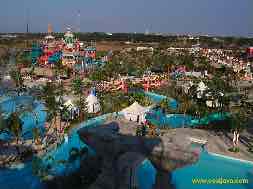 Sinbad's Playground
A multi-structure playground with more than many kind of water features. Explore towers of the castle which are connected from one to another by a rocking bridge. These towers are equipped with water-cannon to surprise friends, and the exciting giant water drum ready to spill 3000 liters of water and bathe you in joy.
Chimera Pool
A 20cm depth babies pool. Chimera Pool is a special pool for toddlers to play. Equipped with a series of small fountain gushing in turns, this toddler pool will provoke laughter and joy to your baby.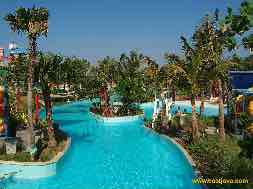 Syracuse Beach
A wavy beach atmosphere of 1800m2 pool. Romp in the surf with family definitely will create smile and laughter. You would not expect when the big waves or ripples waves are coming. Enjoy the wave pool area of 1800m2 with a depth of up to 1.2 meters.
Sirens River
A 480 meters long river stream circling most of Ciputra Waterpark area. The river is specifically designed to keep you and your family become more familiar and intimate. Sirens River calm flows will bring you to explore the thrill of adventure stories of 1001 nights in the middle of the water ripples Sinbad world.
Racer Slide
Race and glide with your family and your friends, and feel the sensation of sliding with a speed of 70km / h in Racer Slide. Colorful skating 10m high and 20m long, will make you laugh in merriment and want to repeat the fun with family.
Packet Available:
Outing Plus (Team Building) packages
Gathering packages
Birthday packages
Call Sales Reservation & Marketing Department
Phone: (031) 7441155
Fax: (031) 7441166
Water Park Boulevard Citraraya The Singapore of Surabaya 60219
Photo Gallery

Latest News
Indonesia is not only rich in cultural diversity. However, there are various historical stories from the city of Heroes, Surabaya. We can find stories about the history of this nation from movies, books, fairy tales, songs and even tourist spots. This of course makes Surabaya, a city with various stories. In addition to make visitors more familiar with the history of the Indonesian nation, Surabaya is a space for education and remember about what the beginning of the existence of Surabaya and all other unique buildings. Maybe from here, we…
---
When you arranging a vacation trip out of town, did any of you include the hero city of Surabaya on your visit list? It's likely that many of you will say no. This is because Surabaya is indeed not known as a tourist city. Even the residents themselves also admit that Surabaya City of Heroes has short destinations. Even though Surabaya is the second largest metropolitan city in Indonesia after Jakarta. Realizing the importance of the meaning of soul's relaxation for the Urban, who are daily filled with various kinds…
---
Impeccably designed, the spacious comfort, personalized services and extensive facilities, provided at Puri Darmo Serviced Residence offers you an opportunity to relax and enjoy your business travel, leisure vacation or relocation in Surabaya. The residence is designed for the international executive and family, with business and recreational facilities as well as educational facilities. Spacious and stylishly decorated, each apartment offers comfortable living as well as modern amenities. Ideal corporate housing for long or short-term project assignment in Indonesia, the residence offers a welcome and refreshing alternative to the hotel or…
---
Pondok Asri Guest House is a family guest house that located at Jl. Kalibokor Selatan 108 Surabaya. This family guest house is available for family or standard single guest, with valuable facilities like : Room Facilities :AC, TV, Phone, Bath Room / Showwer Laundry Service Room Service (16 Hours) General : Safe Deposit Box Credit Card accepted Breakfast, Lunch, Dinner Car for rent can be arranged upon request Extra Bed : Mattresses on the floor or ring extra bed For More Info, please contact: Pondok Asri Family Guest House Jl.…
---