Jagir Dam Wonokromo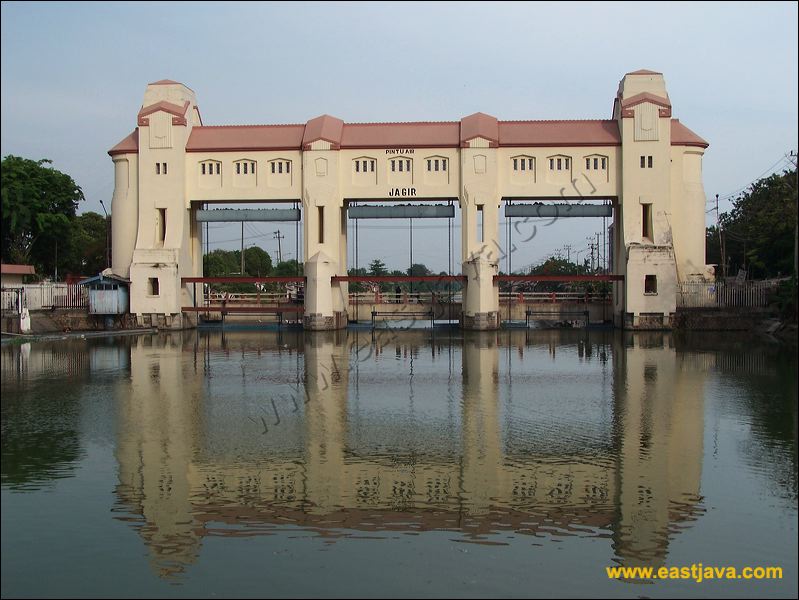 Nowadays, Wonokromo has differed. Wonokromo will become a legend in civilization dynamics of Surabaya city. For Surabaya society, Wonokromo has histories - psychologies meaning and monumental social cultural urban character. Wonokromo and Sawunggaling is development Centrum of metropolitan '"Surabaya tempo doeloe" (Surabaya in the past) act. Song "... Semanggi Suroboyo... Lontong Balap Wonokromo..." be the eternity hymn symbolizing how the importance of Wonokromo for Suroboyo people. But, what's going on in Wonokromo cosmos?
In Wonokromo, is residence various element typical of public Surabaya. Wonokromo face, present Surabaya Zoo (KBS), Joyoboyo Terminal, Wonokromo Market, Jagir Dam, and Railway station (KA) Wonokromo.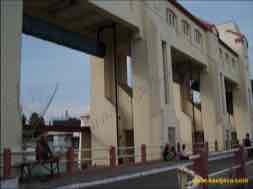 Jagir Dam Building ought to be made as tourism asset, which can deliver state's stock exchange. The historical value of this dam can be promoted to the domestic tourists and also foreign countries especially Dutch that has relationship in the past period. Though, the travelers (especially from Dutch) who visit Surabaya are wonder to show all dams in Surabaya, include of Jagir Dam. Does the Government Town Organizer of Surabaya (Pemkot) have been so busy? So they have no time again to make up the potency in Jagir?
The efforts that make up Wonokromo bring continuation implication in Kali Wonokromo sweeping form and Kalimas in total. Jagir Dam can be made the initial bollard of water tourism from South Surabaya area. Water tourism of course require boats respect and clean and conducive for the tourist alongside the river stream.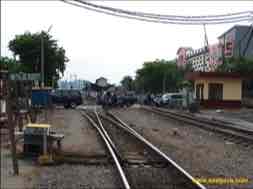 From this Jagir Dam the tourist is promised able to trace ("transparency") river stream in east area: Jagir Wonokromo, Panjang Jiwo, Kedung Baruk, Wonorejo Rungkut, Wonorejo Tambak, up to Madura Strait. To west, the tourist can trace Pulo Wonokromo, Gunungsari, Karah, come up with Karang Pilang Barat. To north side, the tourist can explore Ngagel, Dinoyo, Keputran, Kayun, Ketabang, Peneleh, Red Bridge, and end in Tanjung Perak (Madura Strait).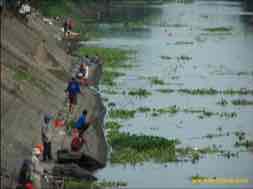 When those things become true? Surabaya really earning like Paris who has Seine River (Croisiere sur lanthanum Seine) what fascinate, and Surabaya city of course have that one. But, why it's made as garbage than Tourism Park? Who is wrong? We all are Surabaya people that shouldering the sin of this ecology.
Arrange Wonokromo must be based on geographical condition and it sociologies value. Wonokromo earned "jiggered" as depicted by John Eade (1997): to project a town that enter to network of living the global city which according to Peter Hall (1998) knitted cities of tomorrow context.
Photo Gallery

Latest News
Indonesia is not only rich in cultural diversity. However, there are various historical stories from the city of Heroes, Surabaya. We can find stories about the history of this nation from movies, books, fairy tales, songs and even tourist spots. This of course makes Surabaya, a city with various stories. In addition to make visitors more familiar with the history of the Indonesian nation, Surabaya is a space for education and remember about what the beginning of the existence of Surabaya and all other unique buildings. Maybe from here, we…
---
When you arranging a vacation trip out of town, did any of you include the hero city of Surabaya on your visit list? It's likely that many of you will say no. This is because Surabaya is indeed not known as a tourist city. Even the residents themselves also admit that Surabaya City of Heroes has short destinations. Even though Surabaya is the second largest metropolitan city in Indonesia after Jakarta. Realizing the importance of the meaning of soul's relaxation for the Urban, who are daily filled with various kinds…
---
Impeccably designed, the spacious comfort, personalized services and extensive facilities, provided at Puri Darmo Serviced Residence offers you an opportunity to relax and enjoy your business travel, leisure vacation or relocation in Surabaya. The residence is designed for the international executive and family, with business and recreational facilities as well as educational facilities. Spacious and stylishly decorated, each apartment offers comfortable living as well as modern amenities. Ideal corporate housing for long or short-term project assignment in Indonesia, the residence offers a welcome and refreshing alternative to the hotel or…
---
Pondok Asri Guest House is a family guest house that located at Jl. Kalibokor Selatan 108 Surabaya. This family guest house is available for family or standard single guest, with valuable facilities like : Room Facilities :AC, TV, Phone, Bath Room / Showwer Laundry Service Room Service (16 Hours) General : Safe Deposit Box Credit Card accepted Breakfast, Lunch, Dinner Car for rent can be arranged upon request Extra Bed : Mattresses on the floor or ring extra bed For More Info, please contact: Pondok Asri Family Guest House Jl.…
---