Jembatan Merah (Red Bridge) Surabaya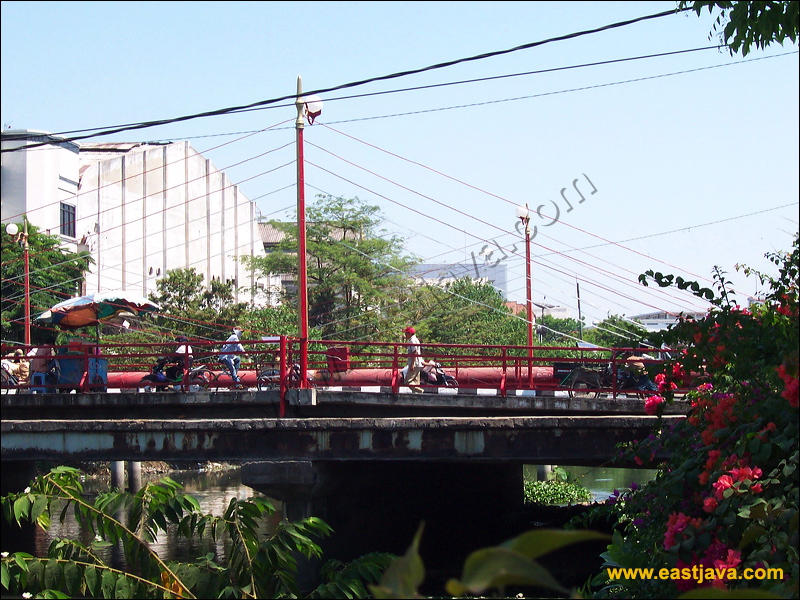 Translated as The Red Bridge which located at North Surabaya, in whose surrounding is one the most savage fightings ever seen on Java. The battle of Surabaya began on 10th November 1945, less than three months after the proclamation of the Indonesian independence day which readed in Jakarta and it was right here that Brigadir General Mallaby from England was killed. Further down the red bridge is the china town which surrounding packed with buildings of typical chinesse architectural and construction. It is still the most crowded business and trade center.
Jembatan Merah (Red Bridge) Area was a trade area that grows as the consequence of Paku Buwono II Agreement from Mataram with VOC by 11 Novembers 1743. In that agreement some of north coast areas, include Surabaya, delivered his domination to VOC. After that, Surabaya resided fully in Dutch power. Now, its position as the center trade is always taken place. Around the bridge, there is economics indicators, include one of them is Jembatan Merah Plaza.
Change of its physical happened around year of 1890-an, when its constrictor fence with the river changed from wood becomes iron. Now the bridge condition connects Rajawali Street and Kembang Jepun Street in north side of Surabaya, almost same with other bridge. Its difference is only the red color.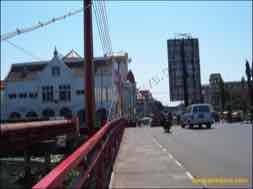 Because the strategic situation, hence Tanjung Perak port also the center sea transport of inters lair East Indonesia area. Ahead, Ocean ships unload and load its goods through lighters and boats that can reach Jembatan Merah (the first port by then) is reside in Surabaya city heart through Kalimas river. Because of the traffic commerce development and goods current improvement and the transportation current increase hence the dock facilities in Jembatan Merah finally fallen short.
Memorized the Heroic Event around Red Bridge (Jembatan Merah) Surabaya
To disarm Japan army, free interning Europe and cure the security safety in ex Japan occupy region in South-East Asia, include Indonesia, ally army (Allied Forces) assign Vice Admiral Lord Louis Mountbatten, The Chief of Ally Army Commander In South-East Asia (Supreme Commander South East Asian Command).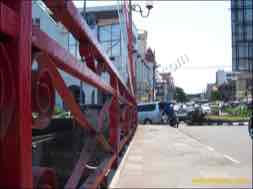 For this duty, Mountbatten mobilizes 3 Divisions (British-Indian Divisions) and assisted by 2 Australian Divisions under General Morsehead.
But, besides the duty from Allied Forces, there is hidden agenda, which done by British army and Australian, that is assisting Dutch to get back at it country, as the agreement between English and Dutch in Chequers, near to London, on 24 Augusts 1945, named Civil Affairs Agreement, where agreed, that British army will clean strength armed of Republic of Indonesia, and deliver area which have " cleaned" to Netherlands Indies Civil Administration (NICA).
British Battleship, HMS CUMBERLAND, has just arrived on 15 Septembers 1945 in Jakarta. Follow with this ship is Dr. Charles Olke van der Plas, former East Java Governor at colonization epoch India-Dutch.
Photo Gallery

Latest News
Indonesia is not only rich in cultural diversity. However, there are various historical stories from the city of Heroes, Surabaya. We can find stories about the history of this nation from movies, books, fairy tales, songs and even tourist spots. This of course makes Surabaya, a city with various stories. In addition to make visitors more familiar with the history of the Indonesian nation, Surabaya is a space for education and remember about what the beginning of the existence of Surabaya and all other unique buildings. Maybe from here, we…
---
When you arranging a vacation trip out of town, did any of you include the hero city of Surabaya on your visit list? It's likely that many of you will say no. This is because Surabaya is indeed not known as a tourist city. Even the residents themselves also admit that Surabaya City of Heroes has short destinations. Even though Surabaya is the second largest metropolitan city in Indonesia after Jakarta. Realizing the importance of the meaning of soul's relaxation for the Urban, who are daily filled with various kinds…
---
Impeccably designed, the spacious comfort, personalized services and extensive facilities, provided at Puri Darmo Serviced Residence offers you an opportunity to relax and enjoy your business travel, leisure vacation or relocation in Surabaya. The residence is designed for the international executive and family, with business and recreational facilities as well as educational facilities. Spacious and stylishly decorated, each apartment offers comfortable living as well as modern amenities. Ideal corporate housing for long or short-term project assignment in Indonesia, the residence offers a welcome and refreshing alternative to the hotel or…
---
Pondok Asri Guest House is a family guest house that located at Jl. Kalibokor Selatan 108 Surabaya. This family guest house is available for family or standard single guest, with valuable facilities like : Room Facilities :AC, TV, Phone, Bath Room / Showwer Laundry Service Room Service (16 Hours) General : Safe Deposit Box Credit Card accepted Breakfast, Lunch, Dinner Car for rent can be arranged upon request Extra Bed : Mattresses on the floor or ring extra bed For More Info, please contact: Pondok Asri Family Guest House Jl.…
---