Orchid Market Darmo Satelit Surabaya : The Education and Agro Business Tourism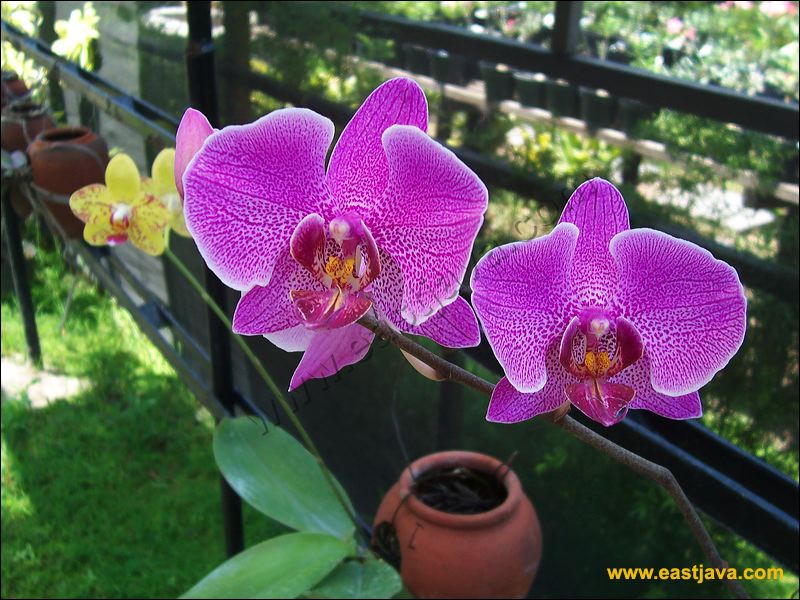 Orchid Market in Darmo Satelit Surabaya area had stood since August 2005. It has been 7 gardeners who merged into Surabaya Orchid Society such as; Renny Orchid, Foresta Orchid, Bale Air, Nona Orchid. The Jasa Marga Area is managed with rent per month system. Strategic location because is located in front of Darmo highway door and luxuriant housing area.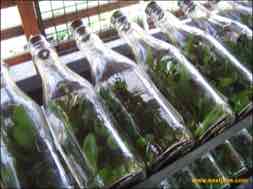 Here is sold various orchid types, start from Dendrobium sp., Cattleya sp., Oncidium sp, and Cymbidium sp. which is symposia orchid type in general have epiphyte character. While monopodium orchid type is orchid being distinguished by growing point which there is in tip of bar, pertumbuhann of straight to the above of by one bars like Vanda sp., Arachnis sp., Renanthera sp., Phalaenopsis sp., and Aranthera sp.
Besides, in this area also stand up some restaurants, which are representative enough for family and also to serve the business relationship. The cold situation with its wide view that is decorated various beautiful plantations.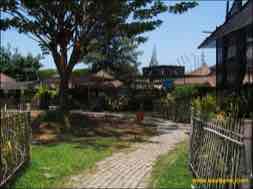 Plant orchid media is also sold here like fern, coconut fiber, charcoal, and wood's powder, accompanied by critical fraction mixture or brick. Leaf ornamental plant agloenema, adenium, palm type, euphorbia of orchid in bottle. Orchid price is range about 25000 –- 300000 rupiahs.
Generally, orchid conduct has require a temperature about 28° C so it need pollinate roof if it put down in open place. But the high temperature can caused dehydration, which can pursue plant growth.
Photo Gallery

Latest News
Indonesia is not only rich in cultural diversity. However, there are various historical stories from the city of Heroes, Surabaya. We can find stories about the history of this nation from movies, books, fairy tales, songs and even tourist spots. This of course makes Surabaya, a city with various stories. In addition to make visitors more familiar with the history of the Indonesian nation, Surabaya is a space for education and remember about what the beginning of the existence of Surabaya and all other unique buildings. Maybe from here, we…
---
When you arranging a vacation trip out of town, did any of you include the hero city of Surabaya on your visit list? It's likely that many of you will say no. This is because Surabaya is indeed not known as a tourist city. Even the residents themselves also admit that Surabaya City of Heroes has short destinations. Even though Surabaya is the second largest metropolitan city in Indonesia after Jakarta. Realizing the importance of the meaning of soul's relaxation for the Urban, who are daily filled with various kinds…
---
Impeccably designed, the spacious comfort, personalized services and extensive facilities, provided at Puri Darmo Serviced Residence offers you an opportunity to relax and enjoy your business travel, leisure vacation or relocation in Surabaya. The residence is designed for the international executive and family, with business and recreational facilities as well as educational facilities. Spacious and stylishly decorated, each apartment offers comfortable living as well as modern amenities. Ideal corporate housing for long or short-term project assignment in Indonesia, the residence offers a welcome and refreshing alternative to the hotel or…
---
Pondok Asri Guest House is a family guest house that located at Jl. Kalibokor Selatan 108 Surabaya. This family guest house is available for family or standard single guest, with valuable facilities like : Room Facilities :AC, TV, Phone, Bath Room / Showwer Laundry Service Room Service (16 Hours) General : Safe Deposit Box Credit Card accepted Breakfast, Lunch, Dinner Car for rent can be arranged upon request Extra Bed : Mattresses on the floor or ring extra bed For More Info, please contact: Pondok Asri Family Guest House Jl.…
---