Jagat Karana Temple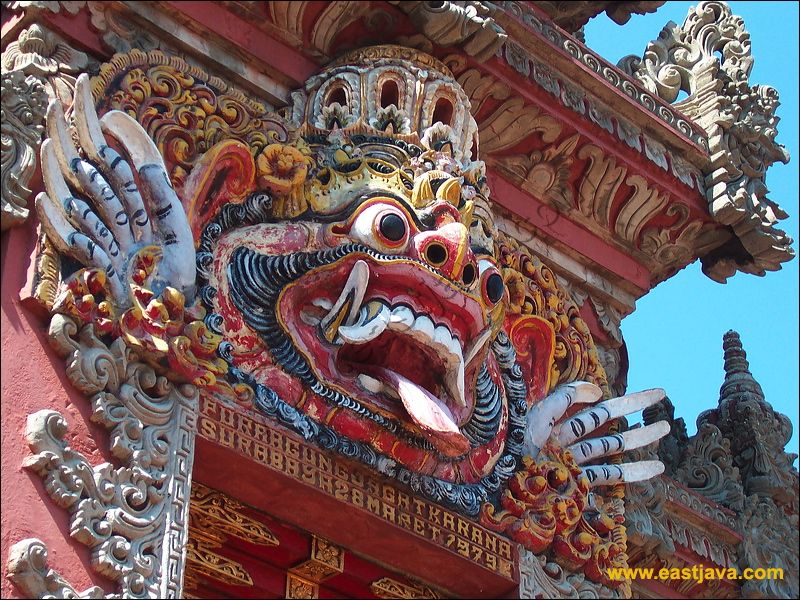 The Grand Jagat Karana Temple is opened first time by The Staff Chief of KODAMAR V Maritime Commodore R. Sahiran at Saraswati day Saturday Umanis Wu Watugunung 29 November 1969. This temple is located in Lumba-Lumba Street 1 Surabaya
This temple had a restoration, based of Wahono support and declared on 26 September 1987. Above the inscription is written a sentence that say: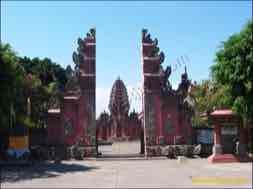 Karya Agung Lenteg Linggih
Pura Agung Jagat Karana
Saniscara Umanis Watugunung
Tang - ping 3 sasih kapat 1909 C
Bale manusya yadnya
The various religious activities of Hindu believer in Surabaya are often focused here. They are Galungan, Kuningan, Saraswati, Melasti, Pecaruan and other. With celebration of Nyepi or New Year Saka, it is expected the Hindu members will cope to increase the Sradha and Bhakti to create the harmonious public, peace, and secure and prosperous.
This Pratima hereinafter applied in Melasti ceremony, a ceremony with an aim to request the life water or tirta amerta. There are 11 pratima of eight temple in Surabaya, add three temples that each resided in Gresik, Lamongan, and Sidoarjo, has join in Melasti ceremony.
The intention of Melasti ceremony like the one that written in Wedha literatre is angamet sarining amerta ring telenging samudra or look for life water in the middle of the ocean.
The next ceremony from this network is Tawur ceremony to dross or Mecaru is focused in Taman Bungkul, followed by tens of Hindu priest and soothsayers from Bromo. In this ceremony, the prayers is contain of application of peacefulness in world is echoed. The core of the ceremony is for the shake of harmonization of glorious nature and elite world.
At that time, ogoh-ogoh which have been prepared some day before take a big role in New Year Saka celebration. Ogoh-ogoh being made like rangda, inverse scorpion, scorpion ijo, and cluluk all is the symbol of badness and all of bad things in the world.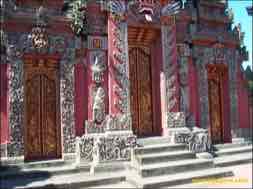 When the commemoration of Nyepi Holiday, Hindu believer will execute Catur Brata Nyepi, or execute the prohibition of four things. First prohibition is observe geni or don't turn on the fire. The value, which implied in observe geni is to kill the bad passion in our self, which during the time unconsciously always stay in our heart, for example just bluffed, sharpened, or other bad character. The other three prohibitions is observe the masterpiece or don't have a work, observe lelungan or don't travel, and observe lelanguan or don't enjoy the entertainment.
As does other religion believer who greet the New Year with cleanness heart and mind, hence Hindu believer also perform a praying ceremony ngembak geni in Segara Temple, Kenjeran, Surabaya. The ceremony that becomes an action chains to greet this Saka New Year is filled with dharma santi or apologized each Hindu member.
Praying Schedule in Jagat Karana Temple
- Galungan and Kuningan Holiday start from 17.00 pm
- Saraswati and Piodalan Holiday start from 17.00 pm
- Full moon and Tilem Day start from 17.30 pm
- Nyepi Holiday:
Melasti start from 1200 WIB
Pecaruan and Pengerupukan start from 08.00 am
Photo Gallery

Latest News
Indonesia is not only rich in cultural diversity. However, there are various historical stories from the city of Heroes, Surabaya. We can find stories about the history of this nation from movies, books, fairy tales, songs and even tourist spots. This of course makes Surabaya, a city with various stories. In addition to make visitors more familiar with the history of the Indonesian nation, Surabaya is a space for education and remember about what the beginning of the existence of Surabaya and all other unique buildings. Maybe from here, we…
---
When you arranging a vacation trip out of town, did any of you include the hero city of Surabaya on your visit list? It's likely that many of you will say no. This is because Surabaya is indeed not known as a tourist city. Even the residents themselves also admit that Surabaya City of Heroes has short destinations. Even though Surabaya is the second largest metropolitan city in Indonesia after Jakarta. Realizing the importance of the meaning of soul's relaxation for the Urban, who are daily filled with various kinds…
---
Impeccably designed, the spacious comfort, personalized services and extensive facilities, provided at Puri Darmo Serviced Residence offers you an opportunity to relax and enjoy your business travel, leisure vacation or relocation in Surabaya. The residence is designed for the international executive and family, with business and recreational facilities as well as educational facilities. Spacious and stylishly decorated, each apartment offers comfortable living as well as modern amenities. Ideal corporate housing for long or short-term project assignment in Indonesia, the residence offers a welcome and refreshing alternative to the hotel or…
---
Pondok Asri Guest House is a family guest house that located at Jl. Kalibokor Selatan 108 Surabaya. This family guest house is available for family or standard single guest, with valuable facilities like : Room Facilities :AC, TV, Phone, Bath Room / Showwer Laundry Service Room Service (16 Hours) General : Safe Deposit Box Credit Card accepted Breakfast, Lunch, Dinner Car for rent can be arranged upon request Extra Bed : Mattresses on the floor or ring extra bed For More Info, please contact: Pondok Asri Family Guest House Jl.…
---