Surabaya Souvenir Center, A Right Place of Surabaya Local Products To Shop
---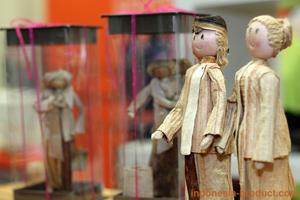 Known as the city of heroes, Surabaya is also famous for its tourist destinations. This second largest city in Indonesia attracts thousands of people to visit the city during holiday and spend their spare time visiting historic places and enjoying amusements offered by the city. Surabaya is the official capital of the East Java province which has become the Metropolis city with numbers of diversities among the people, cultures, habits and way of living. Surabaya has functioned as an industrial, commercial, maritime, education and government city. This multi-function policy has required Surabaya to provide land for industrial areas and infrastructure support facilities.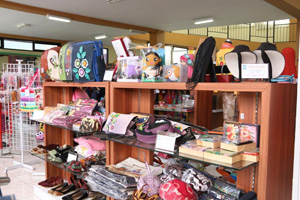 Commercial trading in Surabaya has an important role for the development of Eastern Indonesia, and especially for East Java. The primary trade activities covering the large area from the port in the north to the city center is wholesale trading of products. Therefore, Surabaya has market place and souvenir center to promote Surabaya Small and Medium Enterprises (SMEs), the wholesaler and retailer of local products. To develop Surabaya SMEs, government builds Surabaya SMEs Centers in some strategic spot at the heart of Surabaya. Under the Trade and Industry Department Surabaya City Government, Surabaya SMEs Center promotes and provided various kinds of souvenir products, such as Fashion, Food and Beverages, Home Decoration, Handicraft, Accessories, Beauty and Body Works product, Furniture, Garment and many more. Surabaya SMEs Center has expected to become 'one stop shop' building for local and international customers who want and need to buy the Indonesia products, especially Surabaya products.
To complete trip during in Surabaya, there are four SMEs Centers where providing various kinds of local products. Some of Surabaya SMEs Centers are placed in public shopping center, while the others are placed in SMEs Center Building itself. Visitors do not need to be confused to find a place to buy souvenirs. The largest Surabaya SMEs Center is located in Ir. H. Soekarno St. Number 11 (MERR) in the eastern region of Surabaya. There are more than 170 SMEs here. The other SMEs Centers in Surabaya are Tunjungan City SMEs Center, Mall ITC SMEs Center, and Mall CITO SMEs Center. You can find many things at Surabaya Souvenir Centers, from the handicrafts, traditional clothing; including many batik collections, shoes, bags; and of course the food. So, come and visit Surabaya Souvenir Center, It will spoil your eyes and offers you a huge of unique souvenirs as far as you can see!
Photo Gallery
Visit Web

Latest News
Indonesia is not only rich in cultural diversity. However, there are various historical stories from the city of Heroes, Surabaya. We can find stories about the history of this nation from movies, books, fairy tales, songs and even tourist spots. This of course makes Surabaya, a city with various stories. In addition to make visitors more familiar with the history of the Indonesian nation, Surabaya is a space for education and remember about what the beginning of the existence of Surabaya and all other unique buildings. Maybe from here, we…
---
When you arranging a vacation trip out of town, did any of you include the hero city of Surabaya on your visit list? It's likely that many of you will say no. This is because Surabaya is indeed not known as a tourist city. Even the residents themselves also admit that Surabaya City of Heroes has short destinations. Even though Surabaya is the second largest metropolitan city in Indonesia after Jakarta. Realizing the importance of the meaning of soul's relaxation for the Urban, who are daily filled with various kinds…
---
Impeccably designed, the spacious comfort, personalized services and extensive facilities, provided at Puri Darmo Serviced Residence offers you an opportunity to relax and enjoy your business travel, leisure vacation or relocation in Surabaya. The residence is designed for the international executive and family, with business and recreational facilities as well as educational facilities. Spacious and stylishly decorated, each apartment offers comfortable living as well as modern amenities. Ideal corporate housing for long or short-term project assignment in Indonesia, the residence offers a welcome and refreshing alternative to the hotel or…
---
Pondok Asri Guest House is a family guest house that located at Jl. Kalibokor Selatan 108 Surabaya. This family guest house is available for family or standard single guest, with valuable facilities like : Room Facilities :AC, TV, Phone, Bath Room / Showwer Laundry Service Room Service (16 Hours) General : Safe Deposit Box Credit Card accepted Breakfast, Lunch, Dinner Car for rent can be arranged upon request Extra Bed : Mattresses on the floor or ring extra bed For More Info, please contact: Pondok Asri Family Guest House Jl.…
---