General Sudirman Monument
Monument of General Sudirman located in Yos Sudarso Street, Surabaya. This one-way road is the main road that has crowded traffic every day. In this road, there are many important building like Surabaya City Hall, New Garden Palace Hotel, the entrance to Balai Pemuda building, Local Parliament Building of Surabaya City, and the Mess of TNI-AL field officer Yos Sudarso.
Under the statue has chiseled some pearl words from Commander in Chief of General Soedirman which its core calling upon self confidence, continue struggle, maintain the fatherland, never give up soldier and battle for the nation and the country.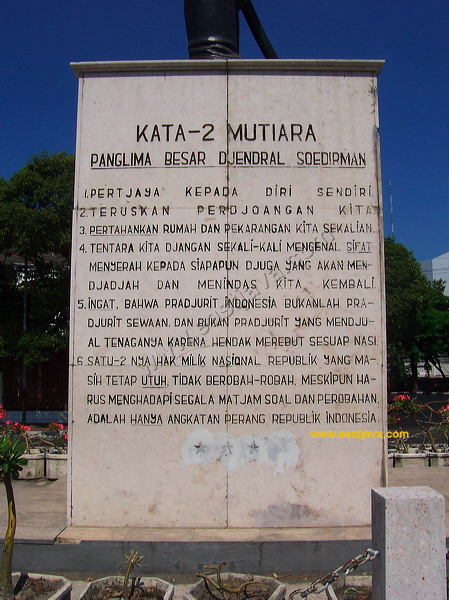 The monument is devoting of all East Java public that initiative by Lieutenant General M. Yasin as the Commander of VII Brawijaya at that moment. This monument faced to Bambu Runcing Monument as warrior town symbol also precisely ahead time of municipal town Building, which is the Surabaya Mayor Office.
General Soedirman is one of big figure among a few other people which born by a revolution. When he was still 31 years he have become a general. Even suffer hard lung pain; he was guerrilla permanent to fight against Dutch. He is having a teacher in HIS Muhammadiyah background in Cilacap and impetuous in Hizbul Wathan Boy Scout and girl guides.
When Japan occupying, he join up the army of Pembela Tanah Air (Peta) in Bogor and after he finished the education, directly become the Commandant of Battalion in Kroya. Become the Division Commander V / Banyumas after TKR is formed, and finally chosen become Republic of Indonesia War Commander In Chief Of Armed Forces (TNI Commander). He is a hero of independence who is not give a dam in his situation self for the shake of maintaining Republic of Indonesia that loved. He noted as a commander and the first and young General in this Republic.
Recognized the Commander General Soedirman personality
Soedirman is one of combatant and leader of this nation byword. His person of firmness is principle and confidence, always take forward of the public and nations importance above his private interest. He was always consistent and consequent in holding a brief for fatherland, nation, and state. This thing may be seen when Dutch Military Aggress II. He which in a state of light because pain still intend plunge to had guerrilla although must be stretcher. In a state of pain, he led and gave spirit at his soldier to make against to Dutch. That is why he is mentioned as one of big figures that borne by revolution of this country.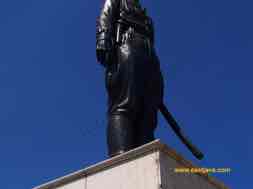 Sudirman who borne in Bodas Karangjati, Purbalingga, 24 January 1916, was obtain formal education from Taman Siswa School, a high national school that famous to had soul school. Then he continued to HIK (normal school) Muhammadiyah, Solo but did not finish. Young Sudirman was known had discipline and impetuous in Hizbul Wathan Scout organization then become the teacher in school HIS Muhammadiyah in Cilacap. Discipline, educator soul, Boy Scout and girl guides, are his person stock so finite can become the highest leader of Armed forces.
Whereas, the military education was started by followed the education of Pembela Tanah Air (PETA) army in Bogor. After completed the education, he had lifted to become the Commandant of Battalion in Kroya. At the time, this man who had drastic attitude, was often protest the Japan army action that arbitrary and rough to his staff. Because his specifically, a times, he almost murdered by Japan army.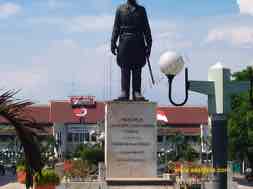 After Indonesia had independence, in an encounter with Japan team, he successfully grab Japan team weapon in Banyumas. That is his first service as army post Indonesia independence. After Public Security And Safety Army (TKR) formed, then he had lifted to become the commandant of Division V / Banyumas colonelcy. And through the TKR Conference on 2 November 1945, he was chosen become the chief of TKR / the Commandant of Republic of Indonesia Combatant Army. Hereinafter, on 18 Decembers 1945, the General is passed to him through President appointment. So he obtain the General didn't pass Military Academy or other higher education as a rule, but because of his achievement.
When ally team come to Indonesia with disarm the Japan army reason, simply Dutch army be hitchhiked. Hence, TKR finally involve encounter with ally army. At December 1945, TKR team that led by Sudirman had involved encounter to fight against the British army in Ambarawa. And on 12 Decembers in the same year, launched attack at a time to all British positions. The perfervid encounter during five days finally forced the British team to resign to Semarang.
At the time of re- Dutch team do its aggression or known as Dutch Military Aggress II, the Capital of RI was reside in Yogyakarta because Jakarta city before all have been mastered. General Sudirman, which that moment resided in Yogyakarta, is pain. His situation is very weakening because his lung which only one.
In Dutch Military Aggression II, Dutch then successfully mastered Yogyakarta. Fella Karno and Hatta and some cabinets' members also had captured. See the situation, although President Soekarno had suggested to stayed in the town and do a treatment, but the fomentation cannot be fulfilled because his impulsion to against the Dutch and his responsibility as the army leader.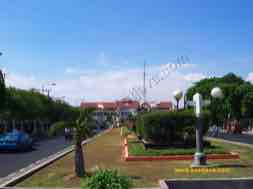 Hence with stretcher, he leaved to lead the team to do guerrilla war. About seven months he went from one forest to other forest, from mount to mount in his pain and very weak and there was no drug. But to his team he always gave spirit and guide as if he didn't feel the disease. But finally he must go home from guerrilla field, he can no longer led the Armed forces directly, but his idea is always required.
Sudirman who during the Japan colonization becomes the server of public and member of Banyumas municipality Parliament, had ever build co-operation to help public from the danger of starvation. The General who had high social soul; finally must die at young age, was 34 years.
At 29 Januaries 1950, this big Commander passed away in Magelang and buried in Heroes Cemetery Semaki, Yogyakarta. He had declared as the Independence Defender Hero.
Photo Gallery

Latest News
Indonesia is not only rich in cultural diversity. However, there are various historical stories from the city of Heroes, Surabaya. We can find stories about the history of this nation from movies, books, fairy tales, songs and even tourist spots. This of course makes Surabaya, a city with various stories. In addition to make visitors more familiar with the history of the Indonesian nation, Surabaya is a space for education and remember about what the beginning of the existence of Surabaya and all other unique buildings. Maybe from here, we…
---
When you arranging a vacation trip out of town, did any of you include the hero city of Surabaya on your visit list? It's likely that many of you will say no. This is because Surabaya is indeed not known as a tourist city. Even the residents themselves also admit that Surabaya City of Heroes has short destinations. Even though Surabaya is the second largest metropolitan city in Indonesia after Jakarta. Realizing the importance of the meaning of soul's relaxation for the Urban, who are daily filled with various kinds…
---
Impeccably designed, the spacious comfort, personalized services and extensive facilities, provided at Puri Darmo Serviced Residence offers you an opportunity to relax and enjoy your business travel, leisure vacation or relocation in Surabaya. The residence is designed for the international executive and family, with business and recreational facilities as well as educational facilities. Spacious and stylishly decorated, each apartment offers comfortable living as well as modern amenities. Ideal corporate housing for long or short-term project assignment in Indonesia, the residence offers a welcome and refreshing alternative to the hotel or…
---
Pondok Asri Guest House is a family guest house that located at Jl. Kalibokor Selatan 108 Surabaya. This family guest house is available for family or standard single guest, with valuable facilities like : Room Facilities :AC, TV, Phone, Bath Room / Showwer Laundry Service Room Service (16 Hours) General : Safe Deposit Box Credit Card accepted Breakfast, Lunch, Dinner Car for rent can be arranged upon request Extra Bed : Mattresses on the floor or ring extra bed For More Info, please contact: Pondok Asri Family Guest House Jl.…
---