Juanda International Airport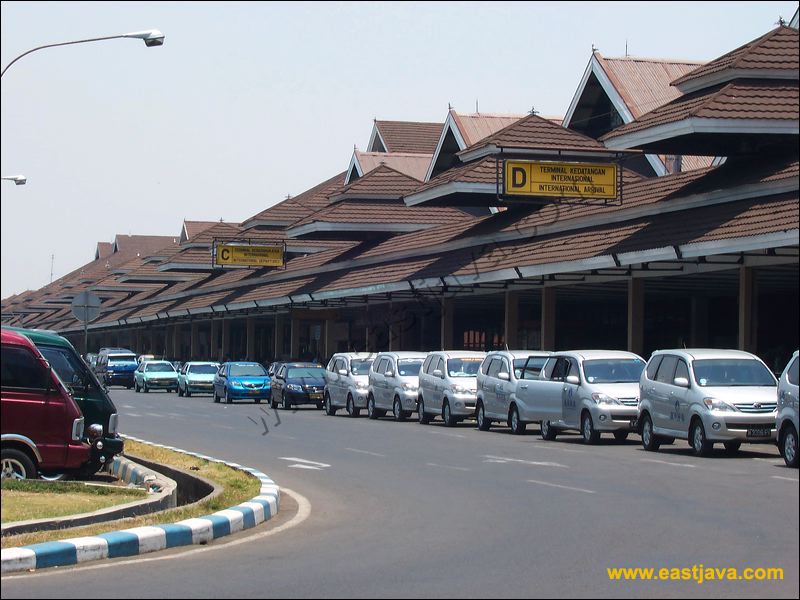 Juanda International Airport, ia the international airport that serves Surabaya city, East Java and its surroundings. Juanda has length basis 3000 meters. This airport actually located in Sidoarjo region, 20 km south side of Surabaya city. Juanda International Airport operated by PT Angkasa Pura 1 (Persero).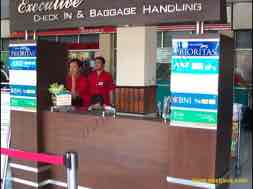 PT (PERSERO) I is one of body State owned Enterprises (BUMN) of Communication Department, which active in management and enterprising of airport service in Indonesia. The company mission is to carrying out the management of airport exploiting and its surroundings well and innovative.
The new Juanda Airport has 51500 M2 widths, or about twofold compared to stripper terminal which only 28088 M2. This new airport is also equipped with farm facility to park with a width of 28900 M2 capable to accommodate more than 3000 vehicles. This airport is estimated can accommodate 6 million to 8 million passengers per year and 120000 tons cargo / year.
Every day air transport activity through Juanda Airport is noted of 320 times air transport of international purpose and domestic with passenger more than ten thousand, air transport majority of akarta purpose.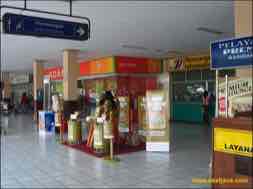 The airport building is enough luxury and wide earns parallel with Public Square. The door interfacing to space boarding, which have been equipped with counters air of transport firm. The second floor is awaiting passenger space. Its glass wall has faced to basis racing and way cab (the plane road towards base raced). The passenger can see the going and coming of the plane, and also that park in apron.
As in Soekarno-Hatta Airport, the passenger is not necessarily go up bus towards door of plane. It is available 11 trunks (garbarata) that become the bridge towards the plane entrance. The wide screen is put down in some corners. From this Flight Information Display System (FIDS) facility, the passenger can see the arrival schedule and also the plane departure.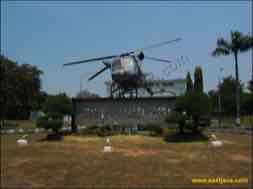 By this supply of international standard like domestic passenger waiting room (14 M2/orang) and the international (20 M2/orang). As a whole, the airport can serve 6 million passengers and 120000 cargo tons every year.
This airport is also equipped with 4 tanks for fuel supply, with capacities 2000 kilolitre. All development funds are assisted by government of Japan through the program Official Development Assistance from Japan Bank for International Cooperation (JBIC).
Flight Departure / Arrival Schedule
Photo Gallery

Latest News
Indonesia is not only rich in cultural diversity. However, there are various historical stories from the city of Heroes, Surabaya. We can find stories about the history of this nation from movies, books, fairy tales, songs and even tourist spots. This of course makes Surabaya, a city with various stories. In addition to make visitors more familiar with the history of the Indonesian nation, Surabaya is a space for education and remember about what the beginning of the existence of Surabaya and all other unique buildings. Maybe from here, we…
---
When you arranging a vacation trip out of town, did any of you include the hero city of Surabaya on your visit list? It's likely that many of you will say no. This is because Surabaya is indeed not known as a tourist city. Even the residents themselves also admit that Surabaya City of Heroes has short destinations. Even though Surabaya is the second largest metropolitan city in Indonesia after Jakarta. Realizing the importance of the meaning of soul's relaxation for the Urban, who are daily filled with various kinds…
---
Impeccably designed, the spacious comfort, personalized services and extensive facilities, provided at Puri Darmo Serviced Residence offers you an opportunity to relax and enjoy your business travel, leisure vacation or relocation in Surabaya. The residence is designed for the international executive and family, with business and recreational facilities as well as educational facilities. Spacious and stylishly decorated, each apartment offers comfortable living as well as modern amenities. Ideal corporate housing for long or short-term project assignment in Indonesia, the residence offers a welcome and refreshing alternative to the hotel or…
---
Pondok Asri Guest House is a family guest house that located at Jl. Kalibokor Selatan 108 Surabaya. This family guest house is available for family or standard single guest, with valuable facilities like : Room Facilities :AC, TV, Phone, Bath Room / Showwer Laundry Service Room Service (16 Hours) General : Safe Deposit Box Credit Card accepted Breakfast, Lunch, Dinner Car for rent can be arranged upon request Extra Bed : Mattresses on the floor or ring extra bed For More Info, please contact: Pondok Asri Family Guest House Jl.…
---