Joko Dolog Statue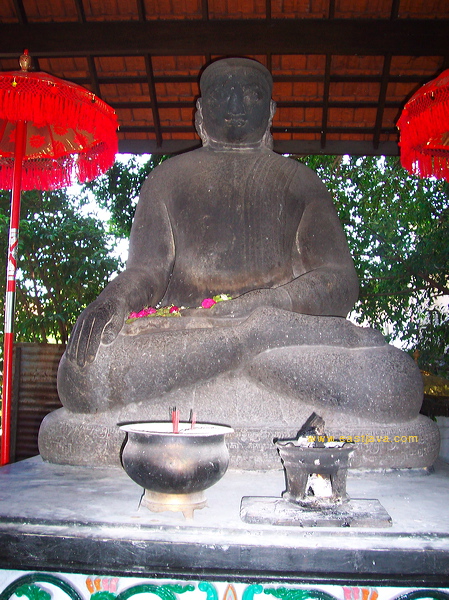 Joko Dolog can be found on Taman Aspari Street. This statue is a Buddhist statue. It is said to have been made in the year 1289 in honor of the funeral of King Kertanagara, who was the last king of Singosari. It is believed to have been carried to Surabaya about 300 years ago. The statue can be found directly in front of the mansion of the governor of East Java, and the aroma of incense remains in the air as it is still a popular pilgrimage site.
A stone image of the Buddha Akshobya, curiously matching the description of the '"missing statue" at Candi Jawi, can be found today in a small secluded park in Surabaya. Known locally as Joko Dolog, the statue displays a lengthy Sanskrit inscription, carved neatly around its base. When it was translated for the first time early this century, the inscription was found to reveal important historical information dating from the period immediately prior to the founding of Majapahit. Translated in the year 1289 by a Buddhist scribe named Nada, the contents are roughly as follows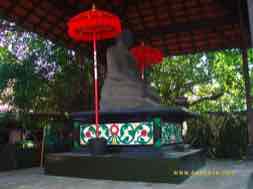 It is said that many years ago, the sage Mpu Bharada divided the land of Java into the kingdoms of Janggala and Panjalu (Kediri), with the purpose of settling a dispute between two brothers over succession. The division was created magically, by means of holy water sprinkled out of a jar from the sky. However, during the reign of Sri Wishnuwardhana the country was reunited to the joy and benefit of all. The ruler, of whom the statue is said to be a portrait, was Wishnuwardhana's son, Kertanagara, who commissioned the image as a symbol of this unification.
The information contained in the Joko Dolog inscription is especially interesting because it appears to establish the authenticity of certain historical figures and events, previously known only from ancient Javanese literature. The story of the division of Java by the sage Mpu Bharada is of course well known, and refers to the reign of King Airlangga in the 11th century. On the other hand, by giving Wishnuwardhana the credit for having reunited the country, the inscription has cast some doubt upon the reliability of traditional literary sources. This is true in regards to the story of Ken Angrok and Ken Dedes, which has been dismissed by some as complete fabrication.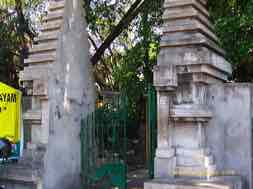 Yet, since the 1975 discovery of a number of inscribed copper sheets originating from the region of Kediri, new light has been shed on the early years of the Singosari period. Known as the inscription of Mula Malurung, issued by King Kertanagara in 1255, it mentions the names of Wishnuwardhana, Tohjaya, as well as a number of other kings who have previously been unknown to historians. Finally, and most interestingly, the Mula Malurung inscription appears to suggest the existence of Ken Angrok, thus at least confirming a historical basis for a story which was regarded almost entirely as a myth.
Photo Gallery

Latest News
Indonesia is not only rich in cultural diversity. However, there are various historical stories from the city of Heroes, Surabaya. We can find stories about the history of this nation from movies, books, fairy tales, songs and even tourist spots. This of course makes Surabaya, a city with various stories. In addition to make visitors more familiar with the history of the Indonesian nation, Surabaya is a space for education and remember about what the beginning of the existence of Surabaya and all other unique buildings. Maybe from here, we…
---
When you arranging a vacation trip out of town, did any of you include the hero city of Surabaya on your visit list? It's likely that many of you will say no. This is because Surabaya is indeed not known as a tourist city. Even the residents themselves also admit that Surabaya City of Heroes has short destinations. Even though Surabaya is the second largest metropolitan city in Indonesia after Jakarta. Realizing the importance of the meaning of soul's relaxation for the Urban, who are daily filled with various kinds…
---
Impeccably designed, the spacious comfort, personalized services and extensive facilities, provided at Puri Darmo Serviced Residence offers you an opportunity to relax and enjoy your business travel, leisure vacation or relocation in Surabaya. The residence is designed for the international executive and family, with business and recreational facilities as well as educational facilities. Spacious and stylishly decorated, each apartment offers comfortable living as well as modern amenities. Ideal corporate housing for long or short-term project assignment in Indonesia, the residence offers a welcome and refreshing alternative to the hotel or…
---
Pondok Asri Guest House is a family guest house that located at Jl. Kalibokor Selatan 108 Surabaya. This family guest house is available for family or standard single guest, with valuable facilities like : Room Facilities :AC, TV, Phone, Bath Room / Showwer Laundry Service Room Service (16 Hours) General : Safe Deposit Box Credit Card accepted Breakfast, Lunch, Dinner Car for rent can be arranged upon request Extra Bed : Mattresses on the floor or ring extra bed For More Info, please contact: Pondok Asri Family Guest House Jl.…
---