Watu Karung Beach
---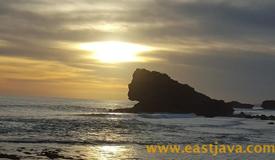 As a country consists of cluster of islands, Indonesia has various tourist spots and the world-class of nature sport. For the lovers of surfing sports, found beaches with big waves and stable is happiness itself, especially if the spot has not been known by many people. Indonesia as a paradise beach in the world has a lot of hidden paradise in various corners of the region. The natural beauty combined with a good wave surfers always be hunted within and outside the country. If you are looking for spot offer a complete package of nature and surfing never miss one name, namely Pacitan. Pacitan has many beautiful beaches clusters. One of the main still hidden and can be used as an alternative tourism is Watu Karung.
Watu Karung Beach is located in areas Pringkutung, Pacitan offers world-class waves for surfing lovers, and waves here were able to reach a height of 4 meters. With the good waves no wonder the world-class surfers champion Bruce Irons keen to try surfing here. Thanks to Bruce and his picture of surfing at Karang Watu made one of the main cover of the leading international magazine Waves, a lot of surfing lovers who became interested and came to this beautiful place. Also for those who love with fishing seems Watu Karung Beach is worth a try.
In addition to its world-class waves, Watu Karung Beach also has the charm of extraordinary beauty also has a very clean, blue sea water with white sand beach. Rows of coral lined add to the beauty of beach. Besides these things also green trees complement the beauty of the elements from this place. Do not worry though for those of you who want to play on the beach, because the big waves will be just a stop on the shoreline and will not drag you out to sea, so you can quietly playing with sand on the beach. To visit this beach we can enter free of charge.
Access to Watu Karung Beach
To reach Watu Karung Beach has not been too easy, if you want to visit Watu Karung should use a private vehicle, or you may rent a vehicle to go into here is a viable option. Private vehicles two wheels and four can be used, just that increase alertness and a sense of caution you, because the access road to this place is not to be good, the existing road will be small and cramped and lots of holes. Moreover during the journey taken approximately up to 40 kilometers. For visitors who use motorcycle, their vehicles can be brought up to the seashore.
Accommodation
Watu Karung Beach area is still natural and clean. Not many visitors who come to visit this place to enjoy the natural charm. Nevertheless many people came to this place to experience the beauty. Therefore, even though a remote place and the necessary access to get to this place pretty hard but availability will be a place to stay there. Lodging is available such as; cottage, homestay, area managed by the locals itself. The facilities offered are fairly simple, no luxurious hotels that are usually available in a few sights.
Photo Gallery

Latest News
Luweng Karan Cave Luweng Jaran is the longest cave in Indonesia, which last data entry on the list of the world's longest cave Luweng Jaran registered in 2002 with a total length reaches 24 km. Location L. Luweng Jaran located in the village, Kec. Punung, Pacitan, East Java. It was first discovered by local residents, was first explored by the Joint Expedition team Anglo – Australian, who was accompanied by a crawler Caves of Indonesia in 1984. At that time, the mapping reaches 11 km, then the expedition was continued…
---
Teleng Ria Beach Teleng Ria beach is the nearest destination while visiting Pacitan Regency, it is about 5 minutes from the city. This beach faced to 'Pantai Selatan' or South Sea with the extent of white sand along 3 km. The distance from the Capital of Pacitan regency to the location is only 3,5 km, and it is easily reached with various vehicle. The wave is medium and enjoyable for swimming and also to have a picnic with family. It has white sand and beautiful panorama guarded by limo mountains.…
---
Tabuhan Cave According to the public story around, Tabuhan cave has found by Kyai Santiko who lost his ox but finnaly the ox was come to a cave. His ox didn't want to out from the cave, because it save many water from the root on it. After the brushwood has cleaned, the cave was taken care by Raden Bagus Joko Lelono and a princess Raden Ayu Mardilah. Tabuhan Cave is on the southwest coast East Java, is the emmense interior of Tabuhan cave. This cave called Tabuhan because it…
---
Teleng Ria Beach Teleng Ria beach is the nearest from Pacitan, it is about 5 minutes from the city. This beach faced to 'Pantai Selatan' with extent of white sand along about 3 km length. The distance from the Capital of Pacitan regency to the location is only 3,5 km, and it is easily reached with various vehicle. The wave is medium and enjoyable for swimming and also to have a picnic with family. It has white sand and beautiful panorama guarded by limo mountains. Various supporting facilities which have…
---