Taman Beach
---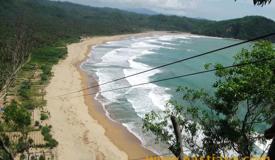 Taman Beach is one of beaches in Pacitan town which has a special attraction for visitors. Taman Beach has several amusements that you can try, among others, flying fox, swimming pools and a turtle conservation. Here are reviews of these amusements;
Swimming Pool
Play water is very fun especially when playing the water at the beach. Pacitan beach has fairly large waves that are called upon for all visitors to be aware of the wave suddenly come. Not a few people drowned of malignancy of this southern sea waves. To anticipate this, then make an anti-drowning pool on the shores to circumvent their desire to swim at the beach, but minimal in terms of risk, while ensuring comfort while swimming at the beach.
The swimming pool have two categories: for children and adults are bordered by a sign. For the adult pool has a water depth of 150 cm, while the children's pool depth of 70 cm. The swimming pool is located at the west entrance of Taman Beach, to get here, please follow the road to the west approximately 300 m you will find a swimming pool with views over the sea and extensive typical southern ocean waves.
To play in the pool you have to pay the entrance fee of 5,000 IDR for one entry. Facilities were given is sufficient available of the locker rooms or public bathrooms, as well as a representative waiting room. On holidays, the swimming pool is crowded of visit by children who are learning to swim or just play it.
Turtle Conservation
When you visit Taman Beach do not forget to see the turtle breeding. Here visitors can see turtles closer and learn how to respect nature. In addition, visitors can also see the development process of the turtle care and can drop it into the sea. Turtle breeding is managed by local residents who are members of a turtle conservation group. The release of sea turtles could be felt by the citizens of turtle conservation manager. For recent years the effort achieve is approximately USD 14 million, and any turtles are released into the sea in value of 20,000 rupiahs. To date the number of turtles released free has already reached - + 800 animals, hundreds of turtles that are bred in captivity since Desembar 2012 ago to the present. Some time prior to this turtle conservation program, local residents cut and consume turtle meat and eggs. After the program, custom cut and eat meat and turtle eggs on the wane. Residents began to realize the turtle is a protected animal as Pacitan local regulations Number 15 of 2011 on the management of marine resources.
Turtles get from the current sea turtle was out from the beach to lay their eggs at night, usually on April to August. At that moment took a turtle conservation group and laying eggs at breeding locations. Approximately 50 days, the eggs begin to hatch and ready to put in a pool containing sea water.
Flying Fox
Flying Fox is the most extreme sport in Taman Beach. Flying Fox has a length of 450 m with a payload capacity of 95 kg with 4 guides, which are one person who was on top cliff, two people are in the space finish and one person was near the pool to pull seling. This Flying Fox in Taman Beach is the longest Flying Fox in Indonesia. There are some tourists come just to play this extreme sport, they come from various cities in Indonesia and even abroad such as Korea and Malaysia. To enjoy this extreme sport you have to walk along the cliff, you also need to pay a ticket for 30,000 rupiahs once skied. Flying Fox Sports is open every Saturday and Sunday.
Administratively Taman Beach is located in eastern part of Pacitan, precisely in Taman hamlet, Hadiwarno village, Ngadirojo district. The route to the beach is very easy, if you are from the direction of Pacitan pass the South Cross Road (JLS: Jalur Lintas Selatan). On the way, you will pass through a beach located right on the roadside named Soge Beach. Arriving in Hadiwarno village please see the signposts to Taman Beach.
Photo Gallery

Latest News
Luweng Karan Cave Luweng Jaran is the longest cave in Indonesia, which last data entry on the list of the world's longest cave Luweng Jaran registered in 2002 with a total length reaches 24 km. Location L. Luweng Jaran located in the village, Kec. Punung, Pacitan, East Java. It was first discovered by local residents, was first explored by the Joint Expedition team Anglo – Australian, who was accompanied by a crawler Caves of Indonesia in 1984. At that time, the mapping reaches 11 km, then the expedition was continued…
---
Teleng Ria Beach Teleng Ria beach is the nearest destination while visiting Pacitan Regency, it is about 5 minutes from the city. This beach faced to 'Pantai Selatan' or South Sea with the extent of white sand along 3 km. The distance from the Capital of Pacitan regency to the location is only 3,5 km, and it is easily reached with various vehicle. The wave is medium and enjoyable for swimming and also to have a picnic with family. It has white sand and beautiful panorama guarded by limo mountains.…
---
Tabuhan Cave According to the public story around, Tabuhan cave has found by Kyai Santiko who lost his ox but finnaly the ox was come to a cave. His ox didn't want to out from the cave, because it save many water from the root on it. After the brushwood has cleaned, the cave was taken care by Raden Bagus Joko Lelono and a princess Raden Ayu Mardilah. Tabuhan Cave is on the southwest coast East Java, is the emmense interior of Tabuhan cave. This cave called Tabuhan because it…
---
Teleng Ria Beach Teleng Ria beach is the nearest from Pacitan, it is about 5 minutes from the city. This beach faced to 'Pantai Selatan' with extent of white sand along about 3 km length. The distance from the Capital of Pacitan regency to the location is only 3,5 km, and it is easily reached with various vehicle. The wave is medium and enjoyable for swimming and also to have a picnic with family. It has white sand and beautiful panorama guarded by limo mountains. Various supporting facilities which have…
---