Pancer Door Beach
---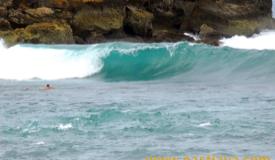 Pancer Beach or also known as Pancer Door is one part of beach of Pacitan gulf located on the easternmost of Teleng Ria Beach facing directly with the Indian Ocean. On the eastern Teleng Ria has a dazzling panorama with typical southern ocean waves. Pancer Door Beach is a beach in Pacitan relatively close to the city center. The beach is one series of Teleng Ria Beach, sea wave's Pancer Door Beach is larger than Teleng Ria Beach. Great surf is often utilized by surfers to show his ability to attack the current high waves. So no wonder in Pancer Door Beach is often used to surf by domestic and foreign tourists.
Administratively Pancer Door Beach is located in Sidoharjo village of Pacitan regency. On the eastern of Pancer Door are the longest river estuary in Pacitan named Grindulu River. This Gindulu River estuary which often used for fishing and small boats berthing by the fishermen. No less interesting Grindulu River estuary is annually held nDayung Boat Race Mancung. nDayung race was followed by dozens of participants from around the community of Pacitan. In addition to the effort to increase the sport nDayung in Pacitan, this activity is aimed at promoting tourism in Pacitan especially Pancer Door Beach. To the east of the river mouth there are cliffs into the bay wall Pacitan. Tebing in overgrown with shady green trees that will add to the stunning scenery.
Recently Pancer Door Beach is already taking shape. Pacitan local governments began to notice the potential of tourism in Pancer Door region as well as the construction of parks, stage events, camping ground and Showcase Geopark Mount Sewu. Additionally in Pancer Door Beach region is very suitable in use as a place to exercise activities such as cycling and running, so do not be surprised if every morning and evening the place is crowded in visit of citizens.
To reach Pancer Door Beach is easy to access you can go through a pathway to Teleng Ria Beach counter inside before you take the left lane and follow the road straight until you find a corner that is counter to entrance Pancer Door Beach. If you are come from Pacitan you can pass the path leading to Barehan resident go along the main trail that leads to the direction of the beach then you will find the entrance to Pancer Door Beach. Admission to Pancer Door Beach is relatively cheap on weekdays of IDR 2,500 for children and adults IDR 3,500, whereas on Saturday, Sunday and national holiday, the admission will increase to IDR 4,000 to IDR 5,000 for children and adults.
Photo Gallery

Latest News
Luweng Karan Cave Luweng Jaran is the longest cave in Indonesia, which last data entry on the list of the world's longest cave Luweng Jaran registered in 2002 with a total length reaches 24 km. Location L. Luweng Jaran located in the village, Kec. Punung, Pacitan, East Java. It was first discovered by local residents, was first explored by the Joint Expedition team Anglo – Australian, who was accompanied by a crawler Caves of Indonesia in 1984. At that time, the mapping reaches 11 km, then the expedition was continued…
---
Teleng Ria Beach Teleng Ria beach is the nearest destination while visiting Pacitan Regency, it is about 5 minutes from the city. This beach faced to 'Pantai Selatan' or South Sea with the extent of white sand along 3 km. The distance from the Capital of Pacitan regency to the location is only 3,5 km, and it is easily reached with various vehicle. The wave is medium and enjoyable for swimming and also to have a picnic with family. It has white sand and beautiful panorama guarded by limo mountains.…
---
Tabuhan Cave According to the public story around, Tabuhan cave has found by Kyai Santiko who lost his ox but finnaly the ox was come to a cave. His ox didn't want to out from the cave, because it save many water from the root on it. After the brushwood has cleaned, the cave was taken care by Raden Bagus Joko Lelono and a princess Raden Ayu Mardilah. Tabuhan Cave is on the southwest coast East Java, is the emmense interior of Tabuhan cave. This cave called Tabuhan because it…
---
Teleng Ria Beach Teleng Ria beach is the nearest from Pacitan, it is about 5 minutes from the city. This beach faced to 'Pantai Selatan' with extent of white sand along about 3 km length. The distance from the Capital of Pacitan regency to the location is only 3,5 km, and it is easily reached with various vehicle. The wave is medium and enjoyable for swimming and also to have a picnic with family. It has white sand and beautiful panorama guarded by limo mountains. Various supporting facilities which have…
---