Luweng Ombo Cave
---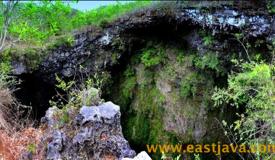 One of nature phenomenon in Pacitan that famous from nature's lovers is Luweng Ombo. Luweng Ombo is settled in Kalak village, Donorejo. Luweng, in Javanese means a hole; while Luweng Ombo is a big hole. This name is describing the condition in Luweng Ombo that refers to the vertical cave that has 130 meter deep and diameter for about 50 meter wide.
Other magnificent thing from this cave is there are halls inside the cave for about 25Km long. This cave is easy to reach by using private vehicles, for the location is near to the main road, or just 10 meter far.
This cave is a favorit place for nature's lover students; they like to make an event in August 17, at Indonesia's independent day, where they are held a flag ceremony at this location.
For cave hiker, there are some points inside the mouth of the cave that form horizontally, then the hiker can make some rest before continue the hiking vertically. Luweng Ombo is claimed to the deepest straighten cave in Java. The are water plants that grow all over the walls around the cave, because of the seepage at walls.
Photo Gallery

Latest News
Luweng Karan Cave Luweng Jaran is the longest cave in Indonesia, which last data entry on the list of the world's longest cave Luweng Jaran registered in 2002 with a total length reaches 24 km. Location L. Luweng Jaran located in the village, Kec. Punung, Pacitan, East Java. It was first discovered by local residents, was first explored by the Joint Expedition team Anglo – Australian, who was accompanied by a crawler Caves of Indonesia in 1984. At that time, the mapping reaches 11 km, then the expedition was continued…
---
Teleng Ria Beach Teleng Ria beach is the nearest destination while visiting Pacitan Regency, it is about 5 minutes from the city. This beach faced to 'Pantai Selatan' or South Sea with the extent of white sand along 3 km. The distance from the Capital of Pacitan regency to the location is only 3,5 km, and it is easily reached with various vehicle. The wave is medium and enjoyable for swimming and also to have a picnic with family. It has white sand and beautiful panorama guarded by limo mountains.…
---
Tabuhan Cave According to the public story around, Tabuhan cave has found by Kyai Santiko who lost his ox but finnaly the ox was come to a cave. His ox didn't want to out from the cave, because it save many water from the root on it. After the brushwood has cleaned, the cave was taken care by Raden Bagus Joko Lelono and a princess Raden Ayu Mardilah. Tabuhan Cave is on the southwest coast East Java, is the emmense interior of Tabuhan cave. This cave called Tabuhan because it…
---
Teleng Ria Beach Teleng Ria beach is the nearest from Pacitan, it is about 5 minutes from the city. This beach faced to 'Pantai Selatan' with extent of white sand along about 3 km length. The distance from the Capital of Pacitan regency to the location is only 3,5 km, and it is easily reached with various vehicle. The wave is medium and enjoyable for swimming and also to have a picnic with family. It has white sand and beautiful panorama guarded by limo mountains. Various supporting facilities which have…
---