Kuncir Beach
---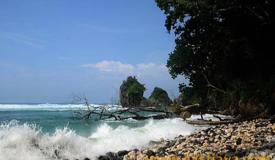 Kuncir beach is settled in Jetak Village, Tulakan sub-district. The easiest access to reach this location is through JLS, Jalur Lintas Selatan or Pacitan southern route. It takes 20 minutes drive and it arrive to Jetak village. Pay attention at the right side, there will be sign board that showing the route to Pidakan beach. The location of Kuncir is on the west side of Pidakan beach.
The name of Kuncir is taken from Javanese Watu Kuncir, that refers to the rocks around the beach. During the high tide, it will be better for not going to the edge of the beach. The waves at Kuncir beach will be so high during high tide and it can crushs the local fields. Hence, there are many falling tress because of the abbration from this south sea.
At night, while the tide is low, we can spend the time at this beach for fishing. Either fishing for fish or clam, local people always spending their night time at Kuncir during Pasatan, or low tide.
Photo Gallery

Latest News
Luweng Karan Cave Luweng Jaran is the longest cave in Indonesia, which last data entry on the list of the world's longest cave Luweng Jaran registered in 2002 with a total length reaches 24 km. Location L. Luweng Jaran located in the village, Kec. Punung, Pacitan, East Java. It was first discovered by local residents, was first explored by the Joint Expedition team Anglo – Australian, who was accompanied by a crawler Caves of Indonesia in 1984. At that time, the mapping reaches 11 km, then the expedition was continued…
---
Teleng Ria Beach Teleng Ria beach is the nearest destination while visiting Pacitan Regency, it is about 5 minutes from the city. This beach faced to 'Pantai Selatan' or South Sea with the extent of white sand along 3 km. The distance from the Capital of Pacitan regency to the location is only 3,5 km, and it is easily reached with various vehicle. The wave is medium and enjoyable for swimming and also to have a picnic with family. It has white sand and beautiful panorama guarded by limo mountains.…
---
Tabuhan Cave According to the public story around, Tabuhan cave has found by Kyai Santiko who lost his ox but finnaly the ox was come to a cave. His ox didn't want to out from the cave, because it save many water from the root on it. After the brushwood has cleaned, the cave was taken care by Raden Bagus Joko Lelono and a princess Raden Ayu Mardilah. Tabuhan Cave is on the southwest coast East Java, is the emmense interior of Tabuhan cave. This cave called Tabuhan because it…
---
Teleng Ria Beach Teleng Ria beach is the nearest from Pacitan, it is about 5 minutes from the city. This beach faced to 'Pantai Selatan' with extent of white sand along about 3 km length. The distance from the Capital of Pacitan regency to the location is only 3,5 km, and it is easily reached with various vehicle. The wave is medium and enjoyable for swimming and also to have a picnic with family. It has white sand and beautiful panorama guarded by limo mountains. Various supporting facilities which have…
---