Pangasan Beach, Pacitan
---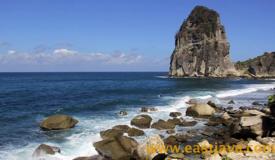 Pacitan nowadays is getting better in their perform, especially in tourism sites. One of brand new tourism sites that getting popular is Pangasan Beach. At Pangasan, there are huge gigantic rock that flare up along the western part of the beach. The rock is also becomes the landmark from Pangasan beach.
Located in Kalipelus village, Kebonangung sub-district, Pangasan Beach is quite near from downtown Pacitan city. To reach Kalipelus village, we need half an hour by using private vehicles. Yet, the journey to reach the beach is quite struggling.
From Pacitan, if you are going to the beach, you can access via JLS or Jalur Lintas Selatan (South Cross Road). Actually there is a nearby street after passing the bridge of Jelok Kayen then turn right. But since the road condition is not so good, it is advisable to pass the Gayam flyover. Just before the flyover Gayam turn left in an uphill road, then make a sharp turn to the right up at the Market Gayam. From Market Gayam go straight and passing the flyover, and stick to the main road. The road is uphill and after meeting the village Klesem entrance gate there is intersection but choose the straight path (if turn left is the directions to Kaliuluh beach). Follow along the main hot mix asphalt road, to meet the intersection in the direction to the Kalipelus Village Hall (there is a monument in the middle of the intersection). From this T-junction turn left and shortly afterwards meet another intersection and take the left route.
Furthermore, we will pass through Elemnetary School in the right way, then Kalipelus Village Hall, after that the road began to decline. Take the main road until meet other T-junction, take a left. At other intersection take right route, until meeting other intersection, take left. You are arive at the inhabitant village, and you better park your vehicles here and take a walk through rice field and tropical forest and meet the Pangasan beach.
After reaching the beach, we can downing the path route to the west and heading to Lanang Mountain, which is the landmark of Pangasan Beach.
Gunung Lanang or Mt Lanang, is a small cape that look separate from the main land. If we can see from the east part of Gunung Lanang, then we will see the high soar up stone.
The west region coast by local residents is commonly called Pangasan Beach, with beach characteristic in the form of lining rocks. On the waterfront is an area of rice field that belongs to local residents who still part of Kalipelus village.
Photo Gallery

Latest News
Luweng Karan Cave Luweng Jaran is the longest cave in Indonesia, which last data entry on the list of the world's longest cave Luweng Jaran registered in 2002 with a total length reaches 24 km. Location L. Luweng Jaran located in the village, Kec. Punung, Pacitan, East Java. It was first discovered by local residents, was first explored by the Joint Expedition team Anglo – Australian, who was accompanied by a crawler Caves of Indonesia in 1984. At that time, the mapping reaches 11 km, then the expedition was continued…
---
Teleng Ria Beach Teleng Ria beach is the nearest destination while visiting Pacitan Regency, it is about 5 minutes from the city. This beach faced to 'Pantai Selatan' or South Sea with the extent of white sand along 3 km. The distance from the Capital of Pacitan regency to the location is only 3,5 km, and it is easily reached with various vehicle. The wave is medium and enjoyable for swimming and also to have a picnic with family. It has white sand and beautiful panorama guarded by limo mountains.…
---
Tabuhan Cave According to the public story around, Tabuhan cave has found by Kyai Santiko who lost his ox but finnaly the ox was come to a cave. His ox didn't want to out from the cave, because it save many water from the root on it. After the brushwood has cleaned, the cave was taken care by Raden Bagus Joko Lelono and a princess Raden Ayu Mardilah. Tabuhan Cave is on the southwest coast East Java, is the emmense interior of Tabuhan cave. This cave called Tabuhan because it…
---
Teleng Ria Beach Teleng Ria beach is the nearest from Pacitan, it is about 5 minutes from the city. This beach faced to 'Pantai Selatan' with extent of white sand along about 3 km length. The distance from the Capital of Pacitan regency to the location is only 3,5 km, and it is easily reached with various vehicle. The wave is medium and enjoyable for swimming and also to have a picnic with family. It has white sand and beautiful panorama guarded by limo mountains. Various supporting facilities which have…
---