July Tourism Calendar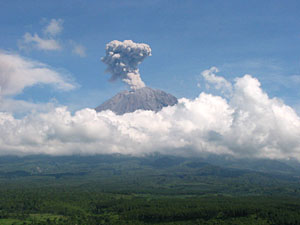 July 23 to 24
Yadnya Kasada Ceremony
It is an annual traditional ceremony held by Tenggerese taking place on 14th night of the 10th months in Javanese calendar. According to Tenggerese, Yadnya Kasada is Holy Sacrifiaction Matremonial offering food crop and animal into Bromo Crater. The offering commemorates the last child of Raden Joko Seger and Roro Anteng named Raden Kusuma who was sacrified and thrown into the crater. Every year Tenggerese must provide offering as grateful expression to God for the blessing given. Raden Kusuma sacrified himself as the offering into Holy Caldera of Bromo in order to keep Tenggerese's safety and prosperity.
Series of Kasada Events :
1. Rakan Tawang and Mepek
2. Tayuban
3. Ceremony
4. Offering to the Bromo Crater

Location: Probolinggo, Village Hall of Ngadisari, Hindu Temple (Pura Luhur Poten), Tosari Lillage Pasuruan.
July 31
Anniversary of KWAN SING TEE KOEN
In order to commemorate the birth of KONGCO, KWAN SING TEE Koen, the god of Pagoda KWAN SING BIO in Tuban. Various rituals events for the Confucian people include: Praying together, god worshiped parade around the city followed by Liongsai and Lion Dance, also entertainment for the public, including: stage performance and puppets shadow show.
Location: Tuban
July
Cross Cultural Festival
This event performs various arts and cultures from cities throughout Indonesia and sister cities such as Korea, Japan, Malaysia and some other countries.
Location: Surabaya
July
Remo and Yosakoi Festival
Remo is a traditional dance originally from Surabaya. It is usually staged on the ceremonial events to welcome the guests.
Location: Surabaya
July
G-Walk Festival
It is an art & cultural performance held by the committee of G-Walk culinary located in the elite real estate, Citraland.
Location: Surabaya
July
Surabaya Juang
This event is held to commemorate the Heroic day of November 10, 1945 by performing jeep parade, fragment of November 10, 1945 struggle and symphoni for nation.
Location: Tunjungan Street and Heroes Monument
July
Sarangan Offering Festival
it is an annual event held to conserve the history and culture of Lake Sarangan. It is also aimed commemorate the time when the lake Sarangan is formed, by arrange the events :
- Ritual Village purification
- Ritual offerings & Float Procession of Gono Odor Tumpeng
- Places Reog, Drum Band, Lion Dance, and others Dance
- Fragment of Sarangan
- Life Music Entertainment

Location: Lake Sarangan
July - September
Sapi Sono
Sapi Sono contest is held before bull race started. Sapi Sono is a pair of decorated bulls controlled by a jockey to follow the sound of music stepping toward to the gateway. Wearing fully ornamented clothes and accessories the bulls look unique and beautiful. They are accompanied with sronen music.
Location: Sampang Stadium.