Kediri SYU Monument
---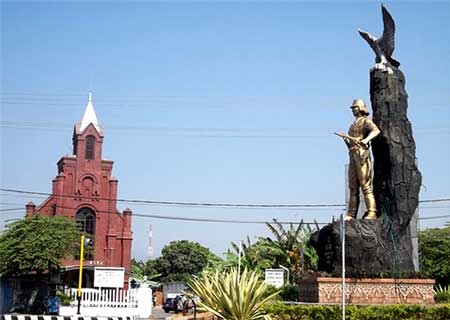 Kediri Syu Monument located in a small roundabout on Jaksa Agung Soeprapto, Kediri, East Java, in front of the former Home Office of the Resident Kediri. Kediri Syu form of a large statue of the man who wore the uniform of Japanese army. An eagle with outstretched wings perched on top of the statue. Syu is the highest form of government in Java residency level used during the Japanese occupation army in Indonesia, and during the Pacific War.
The man statue wore the uniform as PETA (Indonesia Protector) golden yellow stood erect and strong, with a gun in the waist and in the right hand side expands to hold the keris curves are drawn three slanted across his chest. Syu Kediri monument built to commemorate the existence and commendable of Indonesia Protector (PETA) which was in the area of Kediri residency either at Japanese era and especially during physical revolution still in progress. It must be admitted that the military training given Japan a valuable experience for the fighters.
Beauty and soul of Kediri city look at of arts, objects, buildings and historical monuments of this kind that makes its people always remember the historical and cultural of Kediri.

Latest News
Kediri Kediri, is still on one of East Java regencies. Settled near the famous river of Brantas River and identically being called as Cigarette city for here there is a well-known cigarette factory of PT.Gudang Garam Dates back to the ancient history, the early Kediri was emerge as Kadiri Kingdom. Kadiri kingdom was finally separated into two kingdoms; Jenggala Kingdom and Panjalu Kingdom. The famous King of Kediri was King Jayabaya, who is distinguished by his talent of Jangka Jayabaya, it was such a premonition for this country. After the…
---
---
---
---