Doho Street Kediri
---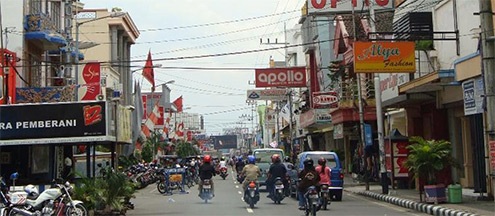 Doho street is the center trade of Kediri. If in Yogyakarta there is Malioboro street, then in Kediri there is Doho street. On either side there are a variety of shops, such fashion store, the gift center, drugstore, shoes, electronics, and many more.
Doho street is right on the city center in Kota district of Kediri, located northern of Kediri town square and the Great Mosque Kediri.
In Doho street also available three-star hotel named Grand Surya Hotel and the other luxury hotel. Location Doho street close to the railway station to the east. Many visitors are easy to find Street Doho the center city of Kediri. In Doho street also there is Sunan Geseng tomb and Setono Gedong mosque are quite popular.
When Eid arrived, so this Doho street is always crowded with people both locals or outside the town of Kediri, who want to buy anything here and provided with a complete and affordable. On the early to afternoon during the day this street may become a trade and shopping center. But different when in the evening, when the shops start closing its stores, then this Doho Steet still crowded of people who want to find food and meal such as typical Pecel Tumpang Kediri. In addition the taste it's unique, so Doho street becomes the center of Pecel Tumpang Kediri.

Latest News
Kediri Kediri, is still on one of East Java regencies. Settled near the famous river of Brantas River and identically being called as Cigarette city for here there is a well-known cigarette factory of PT.Gudang Garam Dates back to the ancient history, the early Kediri was emerge as Kadiri Kingdom. Kadiri kingdom was finally separated into two kingdoms; Jenggala Kingdom and Panjalu Kingdom. The famous King of Kediri was King Jayabaya, who is distinguished by his talent of Jangka Jayabaya, it was such a premonition for this country. After the…
---
---
---
---