Puh Sarang Church
---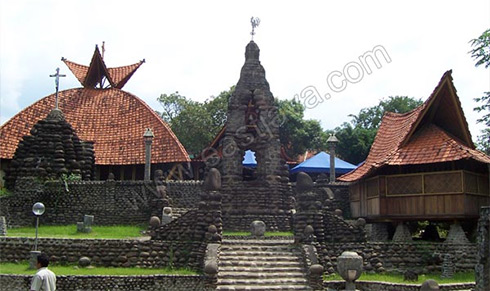 Puh Sarang Church is a wonderful and old catholic church tourist area from Kediri city, East Java. When Sunday or holiday, thousands of visitors flock to the area for this religious tourism. Most of all are on Thursday Legi night, visitors from outside area in droves to following common prayer at the Church, which was founded at Dutch era.
The old Puh Sarang Church is located in Poh Sarang village, Semen district, 10 km to the west of Kediri city. The old Catholic Church was built on 1931 by IR. Hendricus Maclaine Pont, by initiative of a Father of Netherlands named John Humbertus Wolters CM.
Goa Maria (Maria cave) in this tourist area of Puh Sarang Church increasingly attractive with the accretion of Maria cave, which is a large statue of the Cave of Our Lady where the visitors of the Nazarenes say their prayers. In front of the spacious yard built are Christians with sculptures depicting the story of Jesus Christ.
Puh Sarang Church Kediri is an interesting place to be visited by the general public though. In addition to admiring the building architecture of Puh Sarang Church and the unique rooms, as well as to enjoy the calm and sacred atmosphere around the Maria Cave  and Jalan Salib.

Latest News
Kediri Kediri, is still on one of East Java regencies. Settled near the famous river of Brantas River and identically being called as Cigarette city for here there is a well-known cigarette factory of PT.Gudang Garam Dates back to the ancient history, the early Kediri was emerge as Kadiri Kingdom. Kadiri kingdom was finally separated into two kingdoms; Jenggala Kingdom and Panjalu Kingdom. The famous King of Kediri was King Jayabaya, who is distinguished by his talent of Jangka Jayabaya, it was such a premonition for this country. After the…
---
---
---
---