Selomangleng cave
---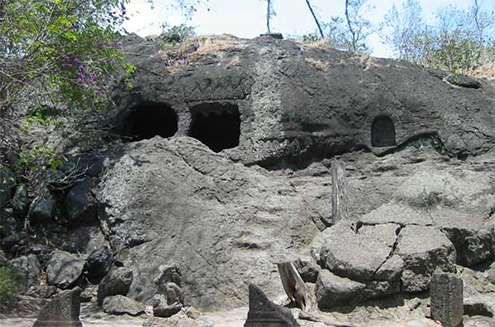 Selomangleng cave is a cave site relics located on the slopes of Mount Klothok, Pojok village, Mojoroto district, about 2 km from the central of Kediri city, just a few meters from the Museum of Airlangga. Selomangleng derived from the word "Selo" means stone and "Mangleng" means hanging. Selomangleng cave is believed to be a hermitage Dewi Kilisuci.
Dewi Kilisuci or Sanggramawijaya known as kedi (not menstruating) is a daughter of King Airlangga who refused to accept the throne Kahuripan, and prefer to abstain from the life by becoming a hermit in the Cave Selomangleng to muksa, until she died.
There are two caves of Selomangleng in this area, which is formed of black andesite is large enough, so that the eye can be seen from great distances. Access to Selomangleng cave is not too difficult, can be reach through the streets of nature stone towards the mouth of the cave.
A small Dwarapala stone statue with a face that has been damaged and a mace in his hand seemed placed around the middle of the stairs leading to the cave Selomangleng. The hills where the Selomangleng cave is located not too high, so it is quite easy to reach. Selomangleng cave has three rooms, with the location of the main room is on the entrance of the cave. From the main hall to another room connected to each by a small cavity in the left and right of the main room.
Selomangleng cave is historical tourist attractions that must be visit when you are in Kediri, because to reach this location is easy to access. Visit to the Selomangleng cave is like entering a time tunnel, and reminds us that the glory of the world is not everything, at least for a Dewi Kilisuci.

Latest News
Kediri Kediri, is still on one of East Java regencies. Settled near the famous river of Brantas River and identically being called as Cigarette city for here there is a well-known cigarette factory of PT.Gudang Garam Dates back to the ancient history, the early Kediri was emerge as Kadiri Kingdom. Kadiri kingdom was finally separated into two kingdoms; Jenggala Kingdom and Panjalu Kingdom. The famous King of Kediri was King Jayabaya, who is distinguished by his talent of Jangka Jayabaya, it was such a premonition for this country. After the…
---
---
---
---