Airlangga Museum
---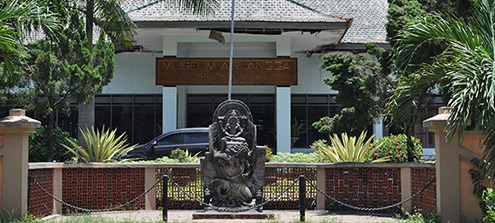 Airlangga Museum Kediri is located on Mastrip 1 street, Selomangleng tourism area, which has the stone statues and objects ancient relics from the glory of Mataram Hindu Kingdom.
Name of the museum taken from name of King Airlangga, who was born in Bali on 990 and supposedly died in 1049 Hemisphere, the founder of Kahuripan Kingdom who ruled from 1009 to 1042 and holds empowerment Abhiseka Sri Maharaja Rakai Halu Sri Dharmawangsa Airlangga Anantawikramo Tunggadewa. Airlangga is asking Mpu Kanwa to compose a literary entitled Arjunawiwaha in 1030, adapt Vana Parva, Mahabharata third book of Vyasa's from India.
Airlangga Museum Kediri building has rooftop and glass wall around the museum building. Airlangga Museum nameplate made of large wood attached to the front of the museum. In the front of museum there are several Makara statues in various sizes placed in the main room of museum in a simple sealed. Makara is a mythological animal that looks like a fish but has a proboscis, which is used to distribute water in Hindu temples.
In Airlangga museum there is a statue headless Buddha. In the Buddhist belief known 3 embodiment of Buddha, the Buddha Man (Buddha incarnate), Dhyani Buddha (Buddha nature subtle body) and Dhyani Bodhisattva (Buddha as creature of heaven). Airlangga Museum Kediri in Selomangleng tourist area has a fairly diverse collections and high historical value, so as good citizens we must appreciate Indonesian history.

Latest News
Kediri Kediri, is still on one of East Java regencies. Settled near the famous river of Brantas River and identically being called as Cigarette city for here there is a well-known cigarette factory of PT.Gudang Garam Dates back to the ancient history, the early Kediri was emerge as Kadiri Kingdom. Kadiri kingdom was finally separated into two kingdoms; Jenggala Kingdom and Panjalu Kingdom. The famous King of Kediri was King Jayabaya, who is distinguished by his talent of Jangka Jayabaya, it was such a premonition for this country. After the…
---
---
---
---