Setono Gedong Site
---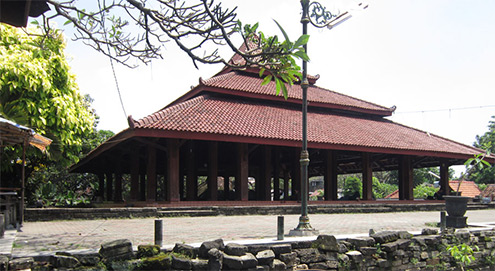 Setono Gedong is a building complex site covering of 3 hectares area located in the shopping center of Doho street Kediri, located in the area of Aulia Setono Gedong Mosque, opposite the railway station of Kediri. This site consists of a mosque, a pavilion, as well as burial area where some figures such as Sunan Amangkurat Mas III reside. Among the tombs of the figures, which became the main mascot is Mbah Wasil. Because Setono Gedong site is also famous with the name Sulaiman Al-Wasil Syamsudin or Mbah Wasil.
Before getting into the Setono Gedong site, there is a gate that is not too high but very thick walls, which is said Setono Gedong formerly the gate of a temple. The arrangement of stones arranged in a row to form stairs towards the building Joglo style pavilion, large on the side right, and the small size is on the left side.
On the foundation stairs that had functioned as the infrastructure of worship, and a meeting of the trustees. According to the story, Kediri region is divided into two groups by the trustees. In the west River led by Sunan Bonang, while in the east of the River led by Sunan Kali Jogo, which includes Mbah Wasil from Istanbul.
Eagle relief in Setono Gedong site, which is carved on the side of a square stone is shaped look like a lotus and plump in the middle ornate curved lines, with a flat top. The stone on this Setono Gedong site stored under the small joglo lies on the left. Eagle relief it turns carved in stone on the four sides of this Setono Gedong site. In Hindu belief, eagle is the bird that becomes a mount of Vishnu.
In the area of Setono Gedong there on the stone that resembles a large bowl flat surface, placed on pedestals that the ornament has not visible anymore.
Setono Gedong site is a very interesting site for travel, though it still holds many mysteries. And also the site of the original heritage Kediri which is combination between Moslems and Hinduism Culture.

Latest News
Kediri Kediri, is still on one of East Java regencies. Settled near the famous river of Brantas River and identically being called as Cigarette city for here there is a well-known cigarette factory of PT.Gudang Garam Dates back to the ancient history, the early Kediri was emerge as Kadiri Kingdom. Kadiri kingdom was finally separated into two kingdoms; Jenggala Kingdom and Panjalu Kingdom. The famous King of Kediri was King Jayabaya, who is distinguished by his talent of Jangka Jayabaya, it was such a premonition for this country. After the…
---
---
---
---