SUNAN MURIA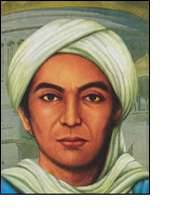 Raden Umar Said, later to become known as Sunan Muria, is usually considered to have been the son of Sunan Kalijaga. His field of operation lay chiefly in the area surrounding Mt Muria, including towns like Pati, Juwana, Kudus and Jepara.
He is said to have been a loyal supporter of the kingdom of Demak and assisted in the construction of the Great Mosque. As to his character and teaching methods, Sunan Muria is reputed to have preferred moving among the lower stratum of society, often travelling far away from major towns to preach in isolated areas.
His sympathy towards many elements of traditional Javanese culture, some of which, like the gamelan orchestra, he adapted and used in the course of teaching, won him both popularity and respect.
| | |
| --- | --- |
| Gateway at the entrance steps leading up to the tomb of Sunan Muria, at Colo, Mt Muria, 15 km north of Kudus,Central Java | Late afternoon at Colo, a cool hill resort on the upper slopes of Mt. Muria. From here, pilgrims make the ascent to the Tomb and Mosque, located on one of the mountain's 5 peaks, more than 700 metres above sea-level |

Menu

The Other Wali
The Walisongo