SUNAN DRADJAT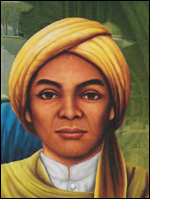 Sunan Drajat, also known as Syarifuddin, or Raden Qosim, was the second son of Sunan Ampel and younger brother of Sunan Bonang.
He received religious training from his father in Surabaya, following which he moved to the region of Paciran, settling in the village of Jelag.
After about two years he had attracted quite a large following and in A.D. 1502 built a mosque, the official opening of which was attended by the other members of the Wali Songo.
The village of Jelag, later to be known as Drajat, was eventually granted to the Sunan and his descendants as a token of respect by the Sultan of Demak. Sunan Drajat is best known for his social activity and charitable works, which he carried out in the Paciran area for almost forty years.
He is said to have created the Gending Pangkur, a special melody for the traditional Javanese gamelan orchestra, with which he converted the local populace. Some fragments of these ancient instruments have been preserved and are now on display in a small museum next to the Sunan's tomb.

Menu

The Other Wali
The Walisongo