SUNAN AMPEL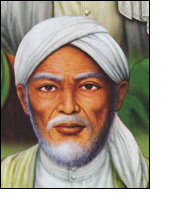 If Maulana Malik Ibrahim community in Java, then Sunan Ampel of Surabaya is recognized as the figure who cultivated and consolidated the influence of his predecessor.
Tradition has it that Sunan Ampel was a kind of 'older brother', to whom the other walls went for guidance. Indeed, two members of the Wali Songo, Sunan Bonang and Sunan Drajat, were his own sons.
It is said further that Sunan Ampel was the spiritual force behind the founding of Java's first Islamic kingdom in Demak. As to the origins of Sunan Ampel, it is believed that his father Syekh Maulana Ibrahim Asmorokondi,who came from the Middle East or somewhere in Central Asia, married a princess of Campa, from where the young Raden Rachmad (Sunan Ampel) arrived in Java early in the 15th century.
He died in A.D. 1479 and was buried at Ngampeldenta, Surabaya.

Menu

The Other Wali
The Walisongo