History of Kediri Regency
---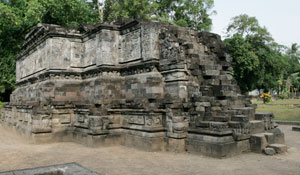 Kediri was a Hindu kingdom based in East Java from 1045 to 1221. In 1045 Airlangga divided Kahuripan into two kingdoms, Janggala (based on contemporary Malang) and Kediri, abdicates in favor of his sons to live the life of an ascetic. He died four years later. In 1068, Virarajendra, the Chola king of Coromandel, conquered Kedah from Srivijaya. The Cholas continued a series of raids and conquests throughout what is now Indonesia and Malaysia for the next 20 years. Although the Chola invasion was ultimately unsuccessful, it gravely weakened the Srivijayan hegemony and enabled the formation of regional kingdoms based, like Kediri, on agriculture rather than trade.
Kediri collected spices from tributaries in southern Kalimantan and the Maluku Islands, known to the West as the Spice Islands or Moluccas. Indian and Southeast Asian merchants among others then transported the spices to Mediterranean and Chinese markets by way of the Spice Route that linked a chain of ports from the Indian Ocean to southern China. In 1117 Kamesvara became king of Kediri and ruled until 1130. He married a princess of Janggala and reunited the two kingdoms founded by Airlangga.
In 1135 Joyoboyo acceded to the throne of Kediri and ruled until 1157. Joyoboyo's reign was a golden age of Old Javanese literature. The 'Prelambang Joyoboyo', a prophetic book ascribed to Joyoboyo, predicted that Indonesia would be ruled by a white race for a long time, then a yellow face for a short time, and then get independent. The Joyoboyo prophecies also mention Ratu Adil, the Just Prince, a recurring figure in Javanese folklore. Many other literary works were produced, including Bharatajuddha Kakawin, a Javanese version of the Mahabarata by Mpu Sedah and his brother Mpu Panuluh. This work was published in 1157. During the reign, Ternate was a vassal state of Kediri.
Kediri fell in 1221 when Ken Arok, the lord of Tumapel, defeated the forces of Kediri at the Battle of Genter and founded the new kingdom of Singhasari.

Latest News
Tegowangi Temple Tegowangi temple is one of ancient temple in Kediri region. This temple has saved many stories about Kediri history. There are some reliefs on the temple wall that interest the tourists who like the historic tourism. The temple is stand in one complex and it looks like a rectangular form. This temple is one historical tourism objects in Kediri regency. Find the historic value by visit this old temple. More info visit www.eastjava.com
---
Mount Kelud Today, Mount kelud is very phenomenal with its new dome that exists from its lake. To reach Mount kelud, the visitors can use motorcycle and the direction come from Kediri to Wates continued to Margomulyo – Bambingan till Jurang Gelap or Mount Pedot. From Jurang Gelap till the new dome of Mount kelud is about 2 km and you can go on foot. Mount kelud has change, it had green crater before explode, but today the beautiful crater is gone and turn up new crater that different from…
---
Bukit Daun Hotel And Resto Bukit Daun Hotel And Resto Is a Located Argowilis Street 777, kediri East Java. It has great sense of uniqueness, ethnic and fresh air. This hotel is so cool. The distance is about 5 km from the town of Kediri in the way to Puhsarang. The location is in the hills with nice hotel setting and cozy atmosphere. The rate of only 170-600 thousand a night, it is a very recommended for family lodging The facilities are about large pool, nice room, and the calm…
---
Puhsarang Church This church is located in Puhsarang village, Semen district of Kediri, that's why it is called Puhsarang Church. The location is 10 km in western Kediri City. This old church had built by Ir. Heendricus Maclaine on behalf of pioneer Mr. Yohanes Humbertus Wolters CM in 1931. The architecture is collaboration between European and Majapahit, combination with other local cultures and Christianity. The first establishment of the complex is the "Antique Church", Puhsarang Church. The structure of the church has unique architectural style form and we can see…
---