Slopeng Beach
---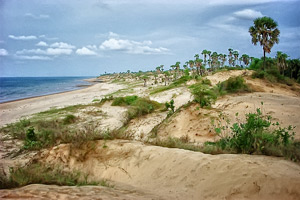 Slopeng Beach is a tourism object located about 21 kilometers to the north from the center of Sumenep town. It is located in Slopeng village, Dasuk district. The beauty of this natural tourism object is seen from the cluster of the mountains. Slopeng beach has clean white sand, the beautiful natural scene, the coconut tree, and siwalan tree on the left and right side.

There are sand hill and fisherman canoes here. There are many foreign tourists and domestic visit here, both in holiday or weekend. You can also learn about the characteristic of society around who have the unique characteristic. This tourism is a big potency of Sumenep and Madura government, because the crowded visitors always fill this tourism object.

On Sunday, domestic and foreign tourists crowd this place, while on holidays like "ketupatan", there is a traditional ceremony called "ketupatan event", which presents the traditional art attraction and traditional game competition.

Besides its beautiful nature, Slopeng beach is also the right place to be the arena of water sports activities such as: sailing competition, and water skiing. The tourists can also enjoy the young coconut water and siwalan fruit (ta'al in Madurese language), which become the typical traditional food to be offered.
The tourism facilities in Slopeng Beach are:
1. Resting Place
2. Outdoor stage
3. Hall
4. Bath Room

To reach Slopeng beach, you can reach through coast direction: Lombang – Legung – Slopeng. Or through Sumenep – Slopeng route, which has good road and has many transportation service along the beach.
Photo Gallery

Latest News
Not inferior to other cities in East Java, Madura Island also has interesting natural beauty. Each region has its own charm, Sumenep is no exception. In addition to its delicious culinary, Sumenep also has beautiful islands. Some islands even still have few visitors. Curious where is it? Check out this list of the most beautiful islands in Sumenep, Madura, East Java! White sand and clear water, Gili Labak is one of the favorite destinations for tourists. Every corner of this island feels Instagrammable. Gili Labak or Gili Lawak, is one…
---
Sapangkor Besar Island Sapangkor Besar island is one of islands in Kangean archipelago. It administratively located in Sumenep regency, Madura, East Java, and lies between Sapangkor Kecil in the west, Saur island in the east, Paliat island in south and Bali island in north. Sapangkor Besar is such a rich and fertile island, which all of the nature sources are available like agriculture, plantation, salt works, forest, and fisheries. The nearest island to this Sepangkor Besar is Sepangkor Kecil, and we can cross by using small boat or even by…
---
Mamburit Island Mamburit island is one of islands in Kangean archipelago and it administratively located in Sumenep regency, Madura, East Java. Mamburit Island is located on the western side of Kangean island and it lies for about 500 M and an approximately length of 1,000 M for which on the north coast is having 1 km in length. There is a lighthouse in the island, and it can be reach during the sunset to see a dramatic nuance of the twilight. The island has a population of approximately 1,000 people,…
---
Pagerungan Besar Pagerungan beasar is one of the islands in Kangean islands group. The island is located at the east of Pagerungan Kecil island. Administratively, the island is located in the Sumenep, East Java, Indonesia. Pagerungan Besar Island is such a remote island that located within 60 Miles of Bali island. From the historical records, Pagerungan island had been invented and populated since the early 1910s. But now the island has been etched in the history of oil in Indonesia as a natural gas-producing region. Until now many oil companies…
---