Payudan Cave
---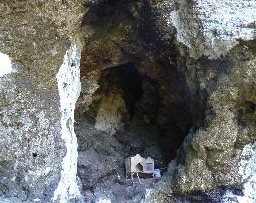 This cave is located at the top of Payudan mountain, exactly in Payudan Daleman village, Guluk guluk district, It is about 30 km through west of Sumenep. For Sumenep people, payudan cave is important. This cave has related with king Sumenep history in 14 to 17 century. This cave is not only a tourism site, but it consists of religious historical.
Payudan cave, at ancient time was the place for meditating for the kings of Sumenep. Those are:
Potre Koneng
She is the daughter of Prince Soccadiningrat II,  a Sumenep king that rule about 1366 till 1386, at that time the royal palace was still in Banasare village, Rubaru district. Potre Koneng husband was king in Sepudi, his name was Adi Poday( 1399-1415) and he was a grand son of Sunan ample in Surabaya.
Prince Jokotole
The was the prince with title of Prince Soccadiningrat III, the King of Sumenep in 1415-1460. He was the elder son of  Potre Koneng and Adipoday. According the story Jokotole was very respected by many people because of his supranatural power. This is proved during Majapahit era, when Jokotole defeated Blambangan kingdom, and he was become the son in law of Majapahit kingdom, King Brawijaya.
Prince Jimat
King of Sumenep in 1731 - 1744, he was the son of Prince Rama (Prince Cakra Negara II)
Ki Lesap
The king of Sumenep in 1749-1750. He passed away while he was battled against the king in Bangkalan. Ki Lesap was the generation of Bangkalan.

Latest News
Not inferior to other cities in East Java, Madura Island also has interesting natural beauty. Each region has its own charm, Sumenep is no exception. In addition to its delicious culinary, Sumenep also has beautiful islands. Some islands even still have few visitors. Curious where is it? Check out this list of the most beautiful islands in Sumenep, Madura, East Java! White sand and clear water, Gili Labak is one of the favorite destinations for tourists. Every corner of this island feels Instagrammable. Gili Labak or Gili Lawak, is one…
---
Sapangkor Besar Island Sapangkor Besar island is one of islands in Kangean archipelago. It administratively located in Sumenep regency, Madura, East Java, and lies between Sapangkor Kecil in the west, Saur island in the east, Paliat island in south and Bali island in north. Sapangkor Besar is such a rich and fertile island, which all of the nature sources are available like agriculture, plantation, salt works, forest, and fisheries. The nearest island to this Sepangkor Besar is Sepangkor Kecil, and we can cross by using small boat or even by…
---
Mamburit Island Mamburit island is one of islands in Kangean archipelago and it administratively located in Sumenep regency, Madura, East Java. Mamburit Island is located on the western side of Kangean island and it lies for about 500 M and an approximately length of 1,000 M for which on the north coast is having 1 km in length. There is a lighthouse in the island, and it can be reach during the sunset to see a dramatic nuance of the twilight. The island has a population of approximately 1,000 people,…
---
Pagerungan Besar Pagerungan beasar is one of the islands in Kangean islands group. The island is located at the east of Pagerungan Kecil island. Administratively, the island is located in the Sumenep, East Java, Indonesia. Pagerungan Besar Island is such a remote island that located within 60 Miles of Bali island. From the historical records, Pagerungan island had been invented and populated since the early 1910s. But now the island has been etched in the history of oil in Indonesia as a natural gas-producing region. Until now many oil companies…
---