Fort Sumenep
---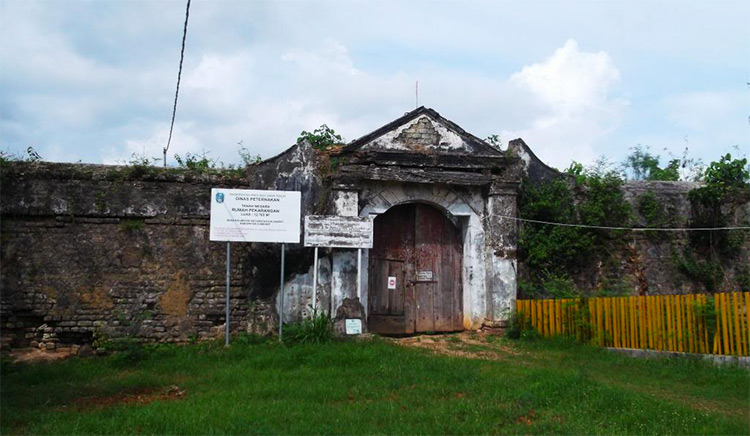 The Dutch built about 34 forts in Java including those on the islands of Nusa Kambangan and Madura. The Dutch built a number of forts as part of an overall system and resources as well as their political enemies. One of East Java forts is Fort Sumenep built during 18 th century.
This Dutch fort is situated in Kalimo'ok village, Sumenep regency, on the southeast side of Madura about 200 meters north of Marengan river. It is located quiet far from the Kalianget Port as well as the city center, about 3 km from the coast and 7 km from Sumenep palace. This fort was built in 1785 and had a square ground plan with 2500 m2 in large, 150 m in length, 100 m in width and four bastions. At that time, this fort was also equipped with four cannons and housed 25 to 30 European soldiers under the command of a lieutenant. An English source mentioned that in 1811 fort Sumenep was in bad shape, its location was badly chosen, so that in fact it was only use as a depot.
Fort Sumenep was built of bricks and has a square ground plan with two entrances, one on the north side and the other on the south side. On each corner is a bastion. The walls are 5 m thick. One bastion is connected each other with 5 m width of rampart. The surviving segment of the fort include its surrounding wall, two gateways, a jail house and a magazine in the interior.
ow, this fort is converted into a holding ground of the Small Animal Husbandry Development Project. With its new function, on the inside as well as outside of the fort a number of buildings for animal stables and guard houses have been built. Outside the fort, on the west side is Dutch cemetery dating from 1933.

Latest News
Not inferior to other cities in East Java, Madura Island also has interesting natural beauty. Each region has its own charm, Sumenep is no exception. In addition to its delicious culinary, Sumenep also has beautiful islands. Some islands even still have few visitors. Curious where is it? Check out this list of the most beautiful islands in Sumenep, Madura, East Java! White sand and clear water, Gili Labak is one of the favorite destinations for tourists. Every corner of this island feels Instagrammable. Gili Labak or Gili Lawak, is one…
---
Sapangkor Besar Island Sapangkor Besar island is one of islands in Kangean archipelago. It administratively located in Sumenep regency, Madura, East Java, and lies between Sapangkor Kecil in the west, Saur island in the east, Paliat island in south and Bali island in north. Sapangkor Besar is such a rich and fertile island, which all of the nature sources are available like agriculture, plantation, salt works, forest, and fisheries. The nearest island to this Sepangkor Besar is Sepangkor Kecil, and we can cross by using small boat or even by…
---
Mamburit Island Mamburit island is one of islands in Kangean archipelago and it administratively located in Sumenep regency, Madura, East Java. Mamburit Island is located on the western side of Kangean island and it lies for about 500 M and an approximately length of 1,000 M for which on the north coast is having 1 km in length. There is a lighthouse in the island, and it can be reach during the sunset to see a dramatic nuance of the twilight. The island has a population of approximately 1,000 people,…
---
Pagerungan Besar Pagerungan beasar is one of the islands in Kangean islands group. The island is located at the east of Pagerungan Kecil island. Administratively, the island is located in the Sumenep, East Java, Indonesia. Pagerungan Besar Island is such a remote island that located within 60 Miles of Bali island. From the historical records, Pagerungan island had been invented and populated since the early 1910s. But now the island has been etched in the history of oil in Indonesia as a natural gas-producing region. Until now many oil companies…
---