Welcome to Sumenep Regency
---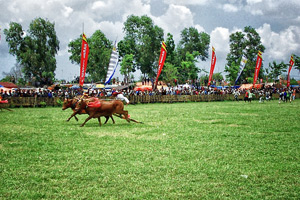 Sumenep is listed in the eastern end of Madura Island. It takes more than four hours to reach Sumenep by bus or taxi from Surabaya's Tanjung Perak harbour.
Sumenep has some interesting sites to visit. Besides historical sites like Kraton and Tiny Museum, Traditional Art and Cultural Attractions as Mask Dance and Bull Race, it also has beautiful beaches to see, such as; Lombang beach and Slopeng beach.
How To Reach Sumenep
One may reach Sumenep by bus from Purabaya Bus Station or takes the bus in Tanjung Perak Port. Sumenep can also be reached from Bali by passing throw Banyuwangi to Jangkar Port in Situbondo regency and the crossing by Very from Jangkar Port to Kalianget, one of Sumenep district. It just needs four hours to cross.
Sumenep is a potential area for developing tourism objects project.
Just visit Sumenep tourism, one of interesting district in Madura Island. See the unique Bull Race competition, fantastic beaches, and the interesting traditional art.

Latest News
Not inferior to other cities in East Java, Madura Island also has interesting natural beauty. Each region has its own charm, Sumenep is no exception. In addition to its delicious culinary, Sumenep also has beautiful islands. Some islands even still have few visitors. Curious where is it? Check out this list of the most beautiful islands in Sumenep, Madura, East Java! White sand and clear water, Gili Labak is one of the favorite destinations for tourists. Every corner of this island feels Instagrammable. Gili Labak or Gili Lawak, is one…
---
Sapangkor Besar Island Sapangkor Besar island is one of islands in Kangean archipelago. It administratively located in Sumenep regency, Madura, East Java, and lies between Sapangkor Kecil in the west, Saur island in the east, Paliat island in south and Bali island in north. Sapangkor Besar is such a rich and fertile island, which all of the nature sources are available like agriculture, plantation, salt works, forest, and fisheries. The nearest island to this Sepangkor Besar is Sepangkor Kecil, and we can cross by using small boat or even by…
---
Mamburit Island Mamburit island is one of islands in Kangean archipelago and it administratively located in Sumenep regency, Madura, East Java. Mamburit Island is located on the western side of Kangean island and it lies for about 500 M and an approximately length of 1,000 M for which on the north coast is having 1 km in length. There is a lighthouse in the island, and it can be reach during the sunset to see a dramatic nuance of the twilight. The island has a population of approximately 1,000 people,…
---
Pagerungan Besar Pagerungan beasar is one of the islands in Kangean islands group. The island is located at the east of Pagerungan Kecil island. Administratively, the island is located in the Sumenep, East Java, Indonesia. Pagerungan Besar Island is such a remote island that located within 60 Miles of Bali island. From the historical records, Pagerungan island had been invented and populated since the early 1910s. But now the island has been etched in the history of oil in Indonesia as a natural gas-producing region. Until now many oil companies…
---