The Exotica Paradise Cliff At A Glance - Tumpak Sewu Waterfall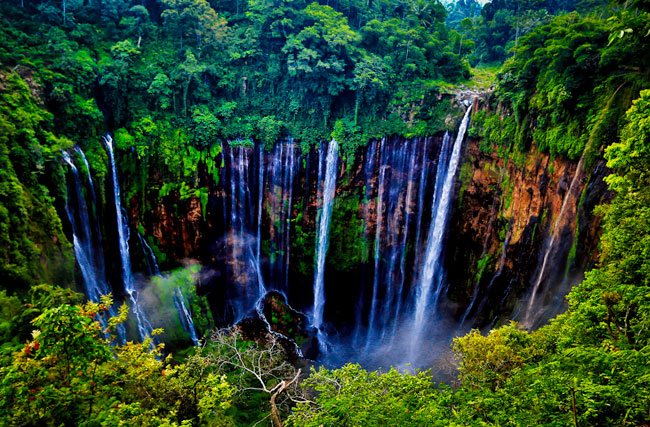 There is always the splendour coming in mind. It is proven from the number of local and international tourist who have visited and have posted various charming visualizations.
The Tumpak Sewu Waterfall or popularly know as the Paradise Cliff is a tourism object presenting a breathtaking waterfall beauty. Located at Sidomulyo tourism village, Pronojiwo district, Lumajang, East Java. It is 55 km to the southern. It takes approximately two hours from the city area of Lumajang.
After arriving there, you will be entertained by the scenery and the beauty of the amazing waterfall pouring naturally fresh water sourced from Semeru mountain. The term Tumpak Sewu is defined as cumulative waterfalls meaning the combination of several magnificent waterfalls.
From the starting point at entrance gate, you need to walk down to the main point for 15 minutes on foot through easy path. The people of local tourism village are special. They help each other to build the Tumpak Sewu Waterfall by setting the wood path and constructing the road from some self-help voluntarily.
At this point, you will witness the wonderful beauty of the Tumpak Sewu Waterfall. The cliff stands high surrounded by waterfalls. Almost half of the cliff circle surrounded by evergreen trees is so natural. Here are two spots for you capturing amazing moments with partners, friends or family.
You can stand on the low point and go up a bit to get a perfect angle of high view. Here you can read some captions igniting our deep feeling of care and politeness to the nature as the local people do, like "do not kill anything here but time, and do not take anything here but photographs", pretty creative.
If you loves challenges and adventures, you can go down the cliff through the available path managed by the staff of Tumpak Sewu Waterfall. You can go down the bamboo steps and walk down across some small waterfalls. The shoes you put on should be well considered, too, since the path is quite hard and slippery.
At the low point, you will go across the stream surrounded by the huge cliffs standing out. After going across the river, you will witness a breathtaking scenery right after the rounded waterfall, it takes only 30 minutes.
If you finish enjoying the beauty of the nature of Sidomulyo village, you can see the activities of local people drying cloves. The cloves dried by sunlight will release a good smell originally from Sidomulyo village.
How to Get There:
Tumpak Sewu Waterfall located at Sidomulyo village, Pronojiwo district approximately 55 km to the southern of Lumajang takes 2 hours trip.
Surabaya bus station/ Malang – Wonorejo bus station – Pronojiwo bus station – Tumpak Sewu waterfall
Jember bus station/ Banyuwangi - Wonorejo bus station – Pronojiwo bus station – Tumpak Sewu waterfall

Latest News
Mandara Giri Temple Mandara Giri Temple is one of religious tourims in Lumajang that often visited by many pilgrimage. This great temple also save Lumajang history in the past. When you are lucky, you can visit this temple while the traditional ceremony being held and there will be interesting ceremonial presented. At this location a religious ceremony is performed by Hindus, who are primarily Balinese. They perform the MEMENDAK THIRTHA ceremony and the MJEJAUMAN ceremony on Mount Semeru. The annual ceremonies are conducted in July. Balinese traditional dances are performed…
---
Dampar Beach Dampar Beach is located in Bades Village, in Pasirian district, about 28 Km from Lumajang. It is a popular tourist beach with beautiful white sand along the beach. Dampar Beach is one of Lumajang beaches that offers its calm waves and soft wind. The visitors can do some beach activities in this beach, such as; swimming, fishing, diving, beach sport on the white sand that spread along the beach, and the others. Visit this beach and spent your holiday with your family here. www.eastjava.com
---
Semeru Mountain Semeru Mountain, most people recognize as just Semeru, is a volcano mountain that settled in East Java, precisely in Lumajang regency. Semeru in the highest mountain in Java which has 3.676 meter above sea level and it also known as the Mahameru or Great Mountain. The name Semeru was derived from Hindu-Buddhist mythical mountain of Meru or Semeru, the abode of gods. The summit crater in Semeru is called Jonggring Saloka. In 1913 and 1946 the Jonggring Saloka Crater had dome with a height of 3744.8 M until…
---
Tengger People Tenggerese or Tengger People is one of Indonesian tribes that live around Bromo Mountain which located around Pasuruan, Lumajang, Probolinggo and Malang Regency. The Tenggerese are the descendants of the Majapahit Princes. Their population is about 600.000 inhabitants within thirty villages. Tenggerese are being known as obedient Hindu followers. For them, Bromo Mountain is sacred. In once in a year they held ceremony of Kasada or Yadnya Kasada as a thanks giving to the Lord. This ceremony is always held in midnite in full moon time around date…
---