The Bamboo Wood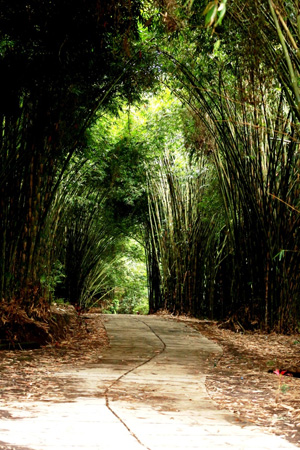 Interesting and diverse tourism destinations in East Java, including the Bamboo Wood in Lumajang. The chosen tourism that worth to visit, here the visitors can enjoy the cool and calm atmosphere.
Come and visit the bamboo wood covering 14 Ha area located at Sumber Mujur, Candipuro District. It is around 30 km far from city area of Lumajang by motorbikes or cars. It is a suitable tourism place for family, nature lovers, and scientific researches considering there are various kinds of bamboo species in the wood.
The bamboo wood Sumber Mujur looks elegant and has absolutely no impression of armature as if you heard it. The surrounding area is cool throughout the day. While inside the visitors are guaranteed not to be exposed to sunstroke, even though it comes during hot day. The sunlight can be muffled by lush bamboo leaves. Entering this bamboo forest like pushing a giant tunnel.
Throughout the bamboo forest, you can see hundreds of benign monkeys. Tourists can interact like giving food. Not only that, the visitors can also see thousands of bats hanging from the bamboo trees and surrounding trees. It can also be an educational medium for your child.
This unspoiled local environment is a special attraction for tourists, especially for those urbanites who crave a natural environment without pollution. To enter this Bamboo Wood Tourism object, visitors are free admission. But for the cost of conservation of this bamboo forest, the Sumber Mujur village only attract dues from traders who sell around these attractions

Latest News
Mandara Giri Temple Mandara Giri Temple is one of religious tourims in Lumajang that often visited by many pilgrimage. This great temple also save Lumajang history in the past. When you are lucky, you can visit this temple while the traditional ceremony being held and there will be interesting ceremonial presented. At this location a religious ceremony is performed by Hindus, who are primarily Balinese. They perform the MEMENDAK THIRTHA ceremony and the MJEJAUMAN ceremony on Mount Semeru. The annual ceremonies are conducted in July. Balinese traditional dances are performed…
---
Dampar Beach Dampar Beach is located in Bades Village, in Pasirian district, about 28 Km from Lumajang. It is a popular tourist beach with beautiful white sand along the beach. Dampar Beach is one of Lumajang beaches that offers its calm waves and soft wind. The visitors can do some beach activities in this beach, such as; swimming, fishing, diving, beach sport on the white sand that spread along the beach, and the others. Visit this beach and spent your holiday with your family here. www.eastjava.com
---
Semeru Mountain Semeru Mountain, most people recognize as just Semeru, is a volcano mountain that settled in East Java, precisely in Lumajang regency. Semeru in the highest mountain in Java which has 3.676 meter above sea level and it also known as the Mahameru or Great Mountain. The name Semeru was derived from Hindu-Buddhist mythical mountain of Meru or Semeru, the abode of gods. The summit crater in Semeru is called Jonggring Saloka. In 1913 and 1946 the Jonggring Saloka Crater had dome with a height of 3744.8 M until…
---
Tengger People Tenggerese or Tengger People is one of Indonesian tribes that live around Bromo Mountain which located around Pasuruan, Lumajang, Probolinggo and Malang Regency. The Tenggerese are the descendants of the Majapahit Princes. Their population is about 600.000 inhabitants within thirty villages. Tenggerese are being known as obedient Hindu followers. For them, Bromo Mountain is sacred. In once in a year they held ceremony of Kasada or Yadnya Kasada as a thanks giving to the Lord. This ceremony is always held in midnite in full moon time around date…
---