Pancur Beach
---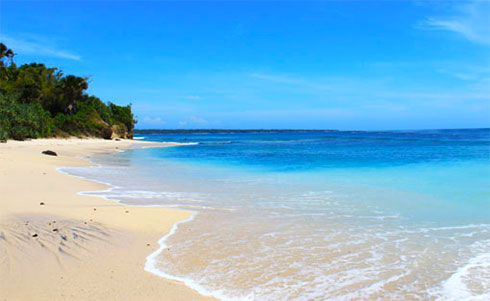 Pancur Beach is one of the member area of Alas Purwo National Park. It is located near the resort Pancur, about 5 km from the Rowobendo post ( Alas Purwo National Park entrance gate) or 3Km from Trianggulasi.
The name Pancur is taken from the small streams or waterfall that flows into the sand and directly flows to the sea. Pancur beach has long coastline with medium wave and wide ground that suitable for family camping. The most magnificent time is happen when the sun is set at this beach. We can enjoy the enchanting sight during the sunset.
For about 2Km to the north, there will be Instana Cave or Srengenge lake. Most of tourists can continue their journey after enjoying Pancur by visiting those two sites.

Latest News
Banyuwangi has variety of tourist options. One of them is nature tourism. This is the attraction of Banyuwangi that must be visited. Banyuwangi is rich in natural destinations, including beaches and forests. The natural destinations include Baluran National Park, Meru Betiri National Park, Alas Purwo National Park, Ijen Crater, and Marina Boom Beach. Although Baluran National Park is in Situbondo, most tourists think it is in Banyuwangi. Family tourists usually visit the beaches in Banyuwangi. One of the most visited beaches is Boom Beach, also known as Marina Boom. Marina…
---
To realize the sport tourism program, Indonesia needs to choose the most potential tourist destinations, from thousands of other tours. Indonesia itself has many tourist destinations that have the potential to become a place for sport tourism. Here are some of them. Toba LakeLake Toba seems to never run out to amaze tourists through its various tourist destinations. First, you can enjoy the beauty of Lake Toba on Holbung Hill. Holbung Hill itself is in Tele Village, Samosir. This place offers another side of the beauty of Lake Toba. It…
---
Javaindo Ecotourism Tour operator and handling tours program for mount Bromo tours, Ijen crater/Plateau tours (kawah ijen tours) Borobudur sunrise tours, explore sumba tours, explore komodo tours Prambanan temple and Yogyakarta tours include merapi volcano. then also handling Wildlife tours Indonesia for Sukamade Turtle Beach, Baluran National Park, Alas Purwo National Park,and Orangutan Tours. As a first hand of Indonesia Travel Company, their primary goal is to provide an exceptional travel experiences in Indonesia for you as their clients. Some of tourists have trusted Java Indo tour to be their…
---
Ngagelan Beach Ngagelan beach is breeding area. It is located 7 km to the west of Trianggulasi Bay. It is also the hachery for the baby turtles. There are some biology students do the research here. Ngagelan beach has much kind of turtle, such as Lepidochelys olivaceae, Eretmochelys imbricata, Dermochelys coreacea, Chelonia mydas, etc. Lepidochelys olivaceae is the most available here. Ngagelan beach can reach by any vehicle from Rowobendo post through west direction or it can be reach by foot through the beach that about 8 km. www.eastjava.com
---