Lider Waterfall
---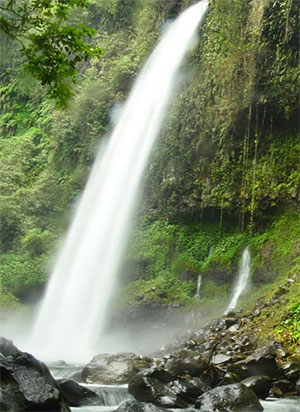 Lider waterfal is locaed is Sragi hamlet, Sumber Arum village, Songgon sub- district, Banyuwang. This waterfall is part of protected areas and monitoring Resort Forest Management Area (KRPH), Perhutani Sidomulyo, and Part of Forest Management Unit (BKPH) in Kali Setail, Sempu sub-district.
The name of Lider waterfall is taken from the location in a protected forest area plot 74, Lider Block. The waterfall that located on the east slopes of Raung Mountain, is about 45 km from Banyuwangi city. This waterfall is easily reached by public transportation and it 1,300 meters height.
What makes Lider waterfall special? It has cool atmosphere, a natural green sightseeing with trees and rock lining at the bottom of the river and sparkling water over the walls.
The access to go to the location is also easy to find and easy to climb. Hence, this waterfall is mostly visited by group of family or those who like to enjoy the natural sightseeing.

Latest News
Banyuwangi has variety of tourist options. One of them is nature tourism. This is the attraction of Banyuwangi that must be visited. Banyuwangi is rich in natural destinations, including beaches and forests. The natural destinations include Baluran National Park, Meru Betiri National Park, Alas Purwo National Park, Ijen Crater, and Marina Boom Beach. Although Baluran National Park is in Situbondo, most tourists think it is in Banyuwangi. Family tourists usually visit the beaches in Banyuwangi. One of the most visited beaches is Boom Beach, also known as Marina Boom. Marina…
---
To realize the sport tourism program, Indonesia needs to choose the most potential tourist destinations, from thousands of other tours. Indonesia itself has many tourist destinations that have the potential to become a place for sport tourism. Here are some of them. Toba LakeLake Toba seems to never run out to amaze tourists through its various tourist destinations. First, you can enjoy the beauty of Lake Toba on Holbung Hill. Holbung Hill itself is in Tele Village, Samosir. This place offers another side of the beauty of Lake Toba. It…
---
Javaindo Ecotourism Tour operator and handling tours program for mount Bromo tours, Ijen crater/Plateau tours (kawah ijen tours) Borobudur sunrise tours, explore sumba tours, explore komodo tours Prambanan temple and Yogyakarta tours include merapi volcano. then also handling Wildlife tours Indonesia for Sukamade Turtle Beach, Baluran National Park, Alas Purwo National Park,and Orangutan Tours. As a first hand of Indonesia Travel Company, their primary goal is to provide an exceptional travel experiences in Indonesia for you as their clients. Some of tourists have trusted Java Indo tour to be their…
---
Ngagelan Beach Ngagelan beach is breeding area. It is located 7 km to the west of Trianggulasi Bay. It is also the hachery for the baby turtles. There are some biology students do the research here. Ngagelan beach has much kind of turtle, such as Lepidochelys olivaceae, Eretmochelys imbricata, Dermochelys coreacea, Chelonia mydas, etc. Lepidochelys olivaceae is the most available here. Ngagelan beach can reach by any vehicle from Rowobendo post through west direction or it can be reach by foot through the beach that about 8 km. www.eastjava.com
---