Kemiren Tourism Village
---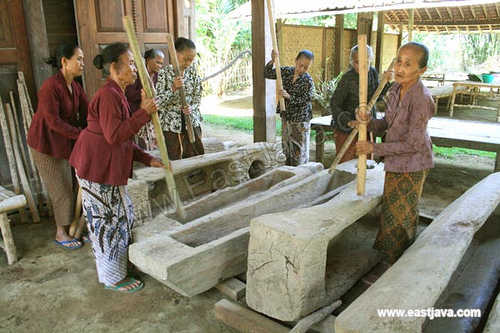 Time changes, culture remain. Kemiren village, in Glagah District, Banyuwangi, is the only village that still exists by its tradition until present time.
Banyuwangi cultural heritage still remain by the existing of Kemiren Village as one of tourism objects nowadays. The people and the government are together maintaining the tourism as a genuine tourism object to show the particular things which arose from the old Banyuwangi till present time.
The culture itself is stand still with its genuine parts, like the everlasting history which still remain by the time changes. For instance, the houses around Kemiren village are charmingly stood with its unique architecture of Gebyuk and the traditional inside the house.
Nevertheless, between the tradition and modernization is also being particularly united as shows in farming method. The farmers nowadays are effectively using the modern ways to their lands, in order to practice the result and also to get the quality of the harvest.
Another custom which still remain is the way of Wedding Ceremony. Banyuwangi people is still face into traditional marriage with serial of actions to do before the day of the bride and the groom meet and being legalize as husband and wife. For example, the first step from wedding day is start by doing Lamaran Manten or marriage proposal. On Lamaran Manten, the groom and the family attending the bride's house to propose the women while bringing the Seserahan or kind of Gift to bride's family. After the Seserahan has taken by the bride's family, those are choosing the right date to go to the wedding day.
American has their own Thanksgiving Day, so is Kemiren Village, which also has their own Thanksgiving to say grateful to merciful God for the bounty harvest and peace. On that day, the inhabitants are gathering on one place by bringing Tumpeng. Tumpeng is one of Indonesian traditional food which made of yellow rice inside and it has conical form on it. The inhabitant made thousands of Tumpeng or it calls as Tumpeng Sewu. Hence, Banyuwangi's Thanksgiving is being called as Tumpeng Sewu ceremony.
Photo Gallery

Latest News
Banyuwangi has variety of tourist options. One of them is nature tourism. This is the attraction of Banyuwangi that must be visited. Banyuwangi is rich in natural destinations, including beaches and forests. The natural destinations include Baluran National Park, Meru Betiri National Park, Alas Purwo National Park, Ijen Crater, and Marina Boom Beach. Although Baluran National Park is in Situbondo, most tourists think it is in Banyuwangi. Family tourists usually visit the beaches in Banyuwangi. One of the most visited beaches is Boom Beach, also known as Marina Boom. Marina…
---
To realize the sport tourism program, Indonesia needs to choose the most potential tourist destinations, from thousands of other tours. Indonesia itself has many tourist destinations that have the potential to become a place for sport tourism. Here are some of them. Toba LakeLake Toba seems to never run out to amaze tourists through its various tourist destinations. First, you can enjoy the beauty of Lake Toba on Holbung Hill. Holbung Hill itself is in Tele Village, Samosir. This place offers another side of the beauty of Lake Toba. It…
---
Javaindo Ecotourism Tour operator and handling tours program for mount Bromo tours, Ijen crater/Plateau tours (kawah ijen tours) Borobudur sunrise tours, explore sumba tours, explore komodo tours Prambanan temple and Yogyakarta tours include merapi volcano. then also handling Wildlife tours Indonesia for Sukamade Turtle Beach, Baluran National Park, Alas Purwo National Park,and Orangutan Tours. As a first hand of Indonesia Travel Company, their primary goal is to provide an exceptional travel experiences in Indonesia for you as their clients. Some of tourists have trusted Java Indo tour to be their…
---
Ngagelan Beach Ngagelan beach is breeding area. It is located 7 km to the west of Trianggulasi Bay. It is also the hachery for the baby turtles. There are some biology students do the research here. Ngagelan beach has much kind of turtle, such as Lepidochelys olivaceae, Eretmochelys imbricata, Dermochelys coreacea, Chelonia mydas, etc. Lepidochelys olivaceae is the most available here. Ngagelan beach can reach by any vehicle from Rowobendo post through west direction or it can be reach by foot through the beach that about 8 km. www.eastjava.com
---