Rimbi Temple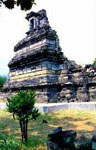 Candi Rimbi lies in the hills to the south east of Mojowarno, Jombang district. While the upper section of the building has, for the most part, collapsed, the base is still in quite a good state of repair, displaying a sequence of intricately carved relief panels extending around the outer wall.
Two important pieces of sculpture discovered at this site, namely the image of the goddess Parwati, thought to be a portrait of the Majapahit queen Tribhuwana, as well as the 'Sun of Majapahit', are now preserved in the National Museum, Jakarta and the Trowulan Museum respectively.
The ruins of Candi Rimbi were remarked on by the British naturalist Alfred Wallace, who passed by them on his way to collect botanical specimens in Wonosalam during the late 19th century. This region, located in the foothills of Mt Anjasmoro, is still heavily forested and offers a superb panorama.