Kedaton Temple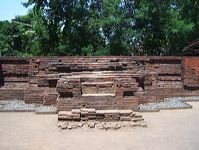 Kedaton temple can be found in the village of Sentonorejo, Trowulan. The site displays extensive brick foundations, supporting a suggestion that it may once have been the location of a palace. A legend connects the poison well / Sumur Upas, which lies within the Kedaton complex, with the Majapahit royal family. According to the story, it was at Sumur Upas that Brawijaya V*, last king of Majapahit, 'vanished from sight', rather than face defeat. Popular belief has it that Brawijaya retired to a supernatural kingdom, said to be situated on the peak of Mt Lawu.
The

kolam Segaran

at Trowulan is an artificial lake covering an area of 6.5 bectares Restorstion was completed in 1984

Click image to many
Photos Gallery of

Brick making is an industry which has continued at Trowulan since the time of Majapahit.