Wringinlawang Temple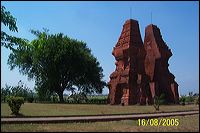 A new type of structure which appeared during the Majapahit era was the Bentar temple, or split gateway. As to the origin of this form, there is no certain answer. The earliest known example, of which only the foundation remains, appears to come from the complex of Penataran temple. Dates equivalent to the year A.D. 1320 are inscribed on two stone guardian figures which seem to have been connected with the gate. Another Bentar temple, also in a ruined condition, can be seen at Jawi temple. According to the Nagarakertagama, this temple underwent reconstruction in 1331, which implies the possibility that the gateway was already in existence around the year 1300. Yet the wording of the text is not clear enough to draw a positive conclusion.
One gateway of this type which is still standing, and which is currently undergoing restoration, is Wringinlawang temple (or Jatipasar), located among the ruins at Trowulan. Wringinlawang is generally considered to have been the entrance gate to an important complex of buildings in the Majapahit capital, but its exact age is unknown.
Bentar temple are also found carved in relief on the walls of a number of temples, notably at Jawi and Jajaghu. The latter, which is known to have been the memorial shrine to King Wishnuwardhana of Singosari (d. 1268), invites the suggestion that these split gateways must therefore have been in use as early as the mid-thirteenth century. However, the style of the reliefs suggests a later date than that of the original monument, and they are thus considered to have been carved during the reign of King Hayam Wuruk of Majapahit. The conclusion to be reached from all this is that Bentar temple were almost certainly in use from at least the early years of the 14th century.