Tourism Attractions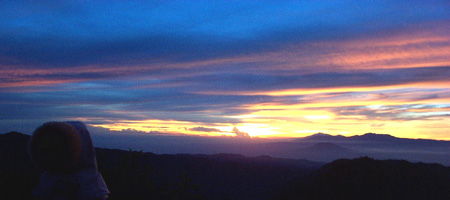 TN-BTS (Bromo Tengger Semeru National Park) area is a well known natural tourist attractions and one of tourist destination places for both domestic and foreign tourists.
Tourism attractions that exist inside the park area are:
1. Watching Sun Rises
One potency of TN-BTS is a strategic place to see sunrise. From this place, we do not only see sunrises, but also wonderful sun rising benhind the landcape. This natural phenomeneon is a spectacular scenery. Other beautifull pleces where we can see the beauty sunrise are the peak of Penanjakan Mountain and Bromo Mountain. To see sunrises one must arrive to TN-BTS at the midnigh or early morning for visitor who are willing to sunrise from Penanjakan Mountain it is susggested to arrive there beetwen 03.30 to 04.00 am. Instead enjoying the beauty of sunrise in the morning to day.
To other visitor who want to enjoy sunrie from Bromo mountain, it is suggested to arrive to Cemorolawang in the night or early morning, about 03.30 to 04.00 am. Than journey is continued by riding horse or traking awalk to Bromo mountain. On the peak of Bromo you can see surising process benhind the beautiful hill. After that we can see wonderful panorama arround it, taking pictures, and than back to Cemorolawang.
2. Seeing Bromo Mountain
Sometimes visitor do not arrive in the morning but only want to see panorama at Bromo regions suround it. We can also enjoy the scenery of sand and five mountain aruond it, which still have fog on it. Taking picture white sand see background is very nice in this places. Such visiting pattern accurs in the morning or noon and then continued by visiting Bromo by walking or riding horse, because the temperature is warmwr in the noon, visitors usually take arest in Cemorolawang for few hours and walk around that places.
3. Sorrouding Bromo Mountain Complex
Some visitor (most of them are foreign tourist) come to TN-BTS particularry to see and enjoy wonderful panorama at Bromo region and regioun souround it. This route usually done by taking necessary equipment. Activities in it include climbing, traveling to Segorowedi (southern Bromo mountain), and then back throught Bromo mountain ladder. After visiting Bromo Mountain, other activities are taking a walk to Widodaren Mountain cave. In this cave, we can see wonderful scenery of sand see of pure water source which never gone for years.
4. Climbing Semeru Mountain
Climbing Semeru mountain take route Malang - Tumpang - Ranupane - Ranu kumbolo - Semeru mountain . The last vilage that can be seen by visitors is Dusun Ranupati. From here climbers report to TN-BTS officer, also prepare all property and equipment.
5. Camping Ground
Instead of all activities abode, sometimes visitor the camping in TN-BTS region of several nights in a group. This activities usually done by youth (such as nature lovers ,student, karang taruna, etc.). The location which area prepared for these avtivities are camping ground Cemorolawang , Nongkojajar, Ranu Pati, Ranu Kumbolo , Ranu Darungan and other beautiful places. Special for camping ground on Ranu Pane this place is usually used by nature lovers, especially from Malang for training new member and other activities. Meanwhile other camping ground used by other education institutions (elementary , school, junior, and senior high school) to train boy scouting, nature loving, other activities by camping.
View
Savana Bukit Teletubis
at
indonesiavirtual.com