Saradan Dam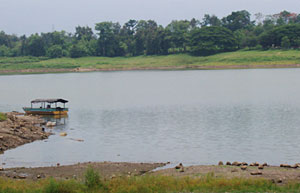 Dam is the Control Building of water, managed for irrigation and developed into tourism object and the attraction of fish elicitation tour.
This tourism object has beautiful panorama because it is stayed in the middle of teak forest tour. There are many visitors who always visit Bening dam that usually called 'Waduk Bening'.
This location is located about 37 km from Madiun city to the north. The effective capacity of the reservoiris measuring 0,8 km2.

Latest News
Madiun Madiun regency, is the western town on East Java before entering Central Java. Madiun is surrounded by famous mountains like Wilis Mountain to the East, Kapur Selatan range to the south and Lawu mountain to the West. Madiun also noted as a significant city from the Indonesian History because there of the uprising of Communist Party of Indonesia [G 30 S PKI] which was had thousands of death. At early begin, Madiun was under the territory of Sultanate of Mataram. On Madiun history, noted that Madiun was a strategic…
---
---
---
---