The History of the Building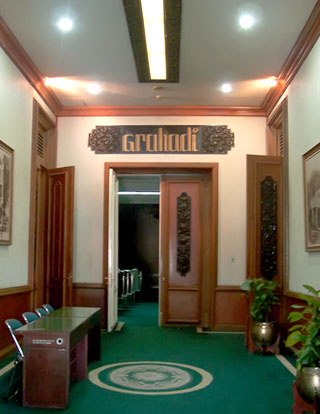 After Grahadi was built in 1795. At that time the Dutch commisioner Dirk Van Hogendrop (1794- 1798) considered his downtowm mansion, near the Red Brigde (now Jembatan Merah area), was not concurrent with his status. Van Hogendrop, then, selected a site on the bank of The Kalimas River to build a more representative garden-house.
The piece of Grahadi land was the property of a rich Chinese bussinesman, who at the beginning was reluctant to give up his property. However, the story said, he was at last forced in subtle way, to place his piece of land "in safekeeping" simpan and symbolically paid 2,5 cents. Hence the original name of Simpang for the present Jalan Gubernur Suryo.
Van Hogendrop spent 14.000 rixdollars to build his garden-house. However, he was not alowed to enjoy his dream residence for only there years. Reports of bureaucratic irregularities and misuse of power during Van Hogendrop's tenure as Commisioner had reached the colonial seat of government in Batavia. On January 1, 1798, while Van Hogendrop was on his way for new year reception, he was arrested and send to Batavia (today Jakarta).
Daendels, know as the Thunder Governor General , improved the Grahadi building when he visited Surabaya in 1810. Daendels wanted Grahadi to became a Palace. Across the river, behind the building a bridge was built.
Grahadi was orginally built facing the river. During the afternoon tea hours, occupants of the house could sit on the veranda and watch small passenger vessels saling down the Kalimas. The house was host to frequent parties and elegant receptions.
Later on sesions of the Court of Justice were often held in Grahadi. In 1802 the front of the house which faced north acroos the river, was changed to the south as it has remained until the present.
Next