The History of the Building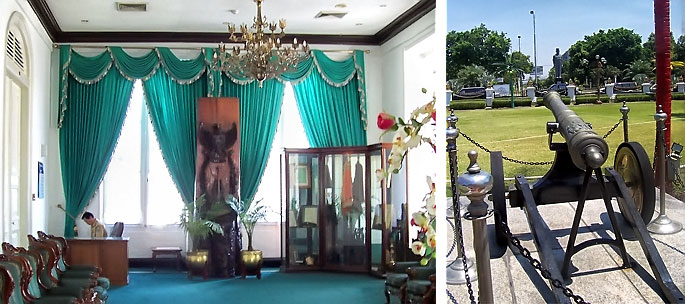 Opposite Grahadi, Kroesen Park was laid out in commemoration of the Dutch Residens J.C Th. Kroesen (1888- 1896). Behind the park stands the Joko Dolog statue, dating from the Singhasari Kingdom.
The last Dutch Governor to recide at Grahadi was Ch.Hartevelt who held office from 1941-1942. After independence at 1945, R.T Soerjo (1945- 1948) became the first Indonesian Governor. His statue stand faces the building now.
When Governor Samadikoen took ofice in 1949, Grahadi was declared a state building where prominent visitors of the Governor are received and receptions and other meeting held. Since the time, the govermor's private residence is in other mansions, elsewhwere in the Surabaya city .
Grahadi has become to convention hall and the official residence of Eats Java's Governor. Its official status can be seen from the huge flagpole and the cannons exhibited on the lawn. The building itself reminds us of the Dutchs Colonialism in Indonesia. Official ceremonies are usualy held at the Grahadi park.
The list of East Java Governors as follows :
Dutch East Indies Governors
East Java Governors
1
M. CH. Handerman
1928-1931
1
R.T. Soerjo
1945-1948
2
C. H. De Mann
1931-1933
2
Dr. Moerdjani
1988-1949
3
J. H. B. Kunemann
1933-1936
3
R.Samadikoen
1949-1957
4
CH. O. Van Der Plas
1936-1941
4
R.T.A Milono
1957-1959
5
Mr. CH. Hartevelt
1941-1942
5
R.Soewondo Ranoewidjojo
1959-1963
6
Moch . Wijono
1963-1967
7
R.P Mohamad Noer
1967-1976
8
Soenadar Prijosoedarmo
1978-1983
9
Wahono
1983-1988
10
Soelarso
1988-1993
11
H.M . Basofi Soedirman
1993-1998
12
Imam Utomo
1998-1999
13
Setia Purwaka
2008-2009
14
Soekarwo
2009-2014
Prev