Waiting for the Sun at Ranu Triangle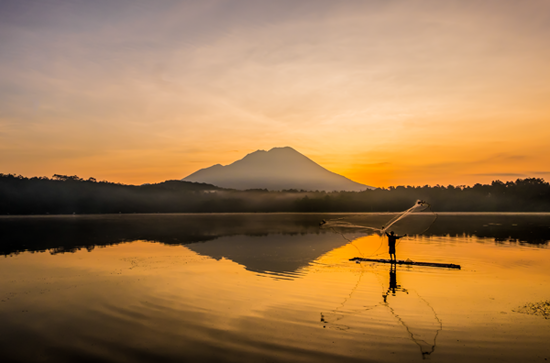 They are three popular lakes which situated on triangle position
Three lakes with the splendour sunrise formed an attractive tourism located in Lumajang, East Java. The magnificent sensation of the sun would soon be coming. The dark sky turned lighter into blue, red, and golden yellow to be one brightening the Ranu Klakah with the Mount Lamongan on 1,668 meters above sea level as its amazing backdrop. The Mount Lamongan, a maar volcano in East Java, is surrounded by 27 maar volcanoes having diameter 0f 150-700 meters. Some maar volcanoes have some lakes, such as Ranu Klakah, Ranu Pakis, and Ranu Bedali.
The silhouette of the fishermen turned invisible on the lake. The sun creating line patterns cut by the thick leaves becamea a breathtaking landscape. Ranu Klakah and various activities of the people around it could never keep these eyes away. The hungry little birds were flying around it catching their preys on the lake. Their maneuver of flying on the fishermen's traditional rafts became a wonderful attraction to remember.
There are three lakes around the area including Ranu Klakah, Ranu Pakis, and Ranu Bedali. The natural lake tourism, the charming panorama, and the triangle location of these three lakes become a unique attraction. From above, we can enjoy the sensation of the sun as well as the tourism facilities, like speedboat, canoe, jet ski, swan boat, traditonal bamboo raft, and fishing area.
You can also have breakfast on the food stalls on the seashore offering various kinds of fish served as you wish. After having breakfast, try to pay a visit on Ranu Pakis. It is 1 km far from Ranu Klakah. The landscape is similar to Ranu Klakah. There are floating places to cultivates freshwater fish and you can interact with the fishermen around here.
If you want to see the lake from above, you can come and visit Ranu Bedali. It is 5 km far from Ranu Klakah. Ranu Bedali tourism desination which is 700 meters high upon the see level and 25 Ha wide falling downward is really pretty to enjoy in the morning. The green lake from above will be very beautiful to be seen while relaxing at the small pavillions available around here.
How to Get There:
The three lakes are located at Klakah district. They are 20-25 km far from the southern of Lumajang. It takes only 40 minutes.
Surabaya/ Malang Bus Station:
From Surabaya/ Malang bus station – Wonorejo bus station – Klakah bus station – to the tourism object.
Jember/ Banyuwangi Bus Station:
From Jember/ Banyuwangi bus station – Wonorejo bus station – Klakah bus station – to the tourism object.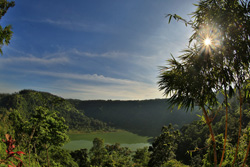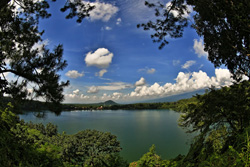 Latest News
Mandara Giri Temple Mandara Giri Temple is one of religious tourims in Lumajang that often visited by many pilgrimage. This great temple also save Lumajang history in the past. When you are lucky, you can visit this temple while the traditional ceremony being held and there will be interesting ceremonial presented. At this location a religious ceremony is performed by Hindus, who are primarily Balinese. They perform the MEMENDAK THIRTHA ceremony and the MJEJAUMAN ceremony on Mount Semeru. The annual ceremonies are conducted in July. Balinese traditional dances are performed…
---
Dampar Beach Dampar Beach is located in Bades Village, in Pasirian district, about 28 Km from Lumajang. It is a popular tourist beach with beautiful white sand along the beach. Dampar Beach is one of Lumajang beaches that offers its calm waves and soft wind. The visitors can do some beach activities in this beach, such as; swimming, fishing, diving, beach sport on the white sand that spread along the beach, and the others. Visit this beach and spent your holiday with your family here. www.eastjava.com
---
Semeru Mountain Semeru Mountain, most people recognize as just Semeru, is a volcano mountain that settled in East Java, precisely in Lumajang regency. Semeru in the highest mountain in Java which has 3.676 meter above sea level and it also known as the Mahameru or Great Mountain. The name Semeru was derived from Hindu-Buddhist mythical mountain of Meru or Semeru, the abode of gods. The summit crater in Semeru is called Jonggring Saloka. In 1913 and 1946 the Jonggring Saloka Crater had dome with a height of 3744.8 M until…
---
Tengger People Tenggerese or Tengger People is one of Indonesian tribes that live around Bromo Mountain which located around Pasuruan, Lumajang, Probolinggo and Malang Regency. The Tenggerese are the descendants of the Majapahit Princes. Their population is about 600.000 inhabitants within thirty villages. Tenggerese are being known as obedient Hindu followers. For them, Bromo Mountain is sacred. In once in a year they held ceremony of Kasada or Yadnya Kasada as a thanks giving to the Lord. This ceremony is always held in midnite in full moon time around date…
---