Arts And Crafts Of Bondowoso
---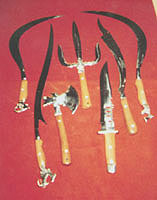 Embroidery Industry
Embroidery Industry in Bondowoso has its own style and design. With various colors and motif. This embroidery becomes the main characteristic of Bondowoso.

Blacksmith
There are various knife and sword produced constantly in good quality. These blacksmiths are produced at Pucang Anom village – Tamanan district and many entrepreneurs who order and sell them in the other cities.

Bird Cage Handicrafts
The birdcage handicrafts factory is located in Mengen village - Tamanan district. In this traditional factory, they make various kinds of birdcages with various kinds of size according to the size of the bird and the demand of the consumers.

Handwritten Batik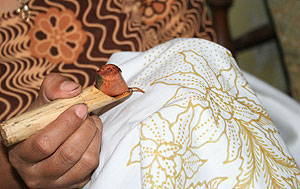 The Handwritten Batik handicrafts factory is located in Sumbersari village - Maesan district, about 13 from Bondowoso to the west. The traditional handmade batik from Bondowoso regency is known as Cassava Batik. For recent years, it has been managed well, so that it can be compete with the other batik in Indonesia. It has distinctive features that make different with others. Bondowoso Batik has unique cassava motif that combined with various colors, so that looks beautiful and has its own characteristic.

Klompen (wooden shoes) Handicrafts
Klompen is traditional sandal of Javanese that made from wood material. Klompen handicrafts factory produces various kinds of Klompen with different designs and sizes for teenagers and adults. It is located at Jambe Anom village – Tamanan district, about 15 Km southern of Bondowoso.

Whip Handicraft
Whip ("Pecut") handicraft is located in Suger Lor village - Maesan district. Animal broker in Bondowoso area commonly uses this product to sell cows. Nowadays, during the development / improvement of the shapes, this handicraft is also used for household decoration.

Beads Handicraft
There are many kind of beads handicrafts produced here, such as; necklace, ring, briefcase, belt, etc. Those products are made of shells, produced at Cerme district, about 32 km north east of Bondowoso city. The quite, varicolored, shapes, and size, become a special attraction for visitor to be owned, or as souvenirs for families and friends.

Leather Handicraft
The central of leather handicraft is situated at Pujer district, about 12 km southward of Bondowoso city. The products are jacket, bags or purse, belt, wallet, and more various motif and models, size and color. The development in creating depends on taste of the customer. All of products are made of cowhide as the main material. The products quality didn't need to be doubt, and achievable. Usually, the products are sold in a specialty store in around Bondowoso and Bali.

Silver Handicraft
Silver handicraft in Bondowoso Regency may be called as a very young effort. But, it doesn't mean that it has not a good quality and large market. The products such as bracelet, necklace, and ring, are not only marketed in around Bondowoso, East Java, or Indonesia, but also have been able to reach the international market, like Holland, Germany, and USA. Those fine handicrafts are produced by handmade workmen in Jati Tambang Village, Wringin district, about 16 Km west of Bondowoso city.

"Ketebung" Furniture
This furniture handicraft is quite different with other furniture, which is usually used wood or rattan as the main materials, but it is not. It is by banana leaves, so that it is called by "Ketebung" Furniture. As well as other furniture. It also produces into kinds of shape and size. The motif of each furniture also give an art value that combine with exclusive natural banana leaves color, being glossily polished, will definitely give a luxurious nuance. The centre of "Ketebung" Furniture industry is located at Karang Melok Village, Tamanan district, it is about 15 Km from Bondowoso to the south.

Latest News
Kapur Cave Kapur cave is located near to Blawan waterfall in Kalianyar village, Bondowoso. Goa Kapur or Kapur cave is approximately located around 175 Km from Belawan hot spring. At the cave, the local people believe there is a clear water poll that being used by Damarwulan to wash his face at that time. Damarwulan was a Javanese legendary hero that had mighty power to help the poor. www.eastjava.com
---
Ijen Crater Ijen is the complex of volcanic area, which there is a crater of Ijen and its plateau, which has 2,600M and 8,660 M high. Ijen is located in three parts of regencies, which in Situbondo, Bondowoso, and Banyuwangi, East Java. This volcanic area become the most incredible and surreal volcanic area in East Java. In this volcanic mountain, there is also the sulfur mining, regarding that the mountain is still active and produce the nature sulfur. In here, we can see the sulfur miners that collect and carry…
---
Singo Ulung Dance Singo Ulung dance is a traditional art dance from Bondowoso that annually been performed at Bondowoso's anniversary. This traditional dance was created by a respected man named Singo. Singo was name of a person who came from Blambangan. He was ran from Blambangan to save himself and stayed in Blimbing village, Klabang district Bondowoso. Singo Ulung and his wife Nyi Moena with Ki Jasiman, were helping and cooperating each other to create a prosperous life of society at Blimbing village. He cared about the rice field and…
---
Segoro Anakan Segoro Anakan is good for sailling sports and fishing. It is still natural and has not been developed. It is a virgin mangrove forest tourism object. the visitors can visit Segoro Anakan through Grajagan coast by boat. It takes about 45 minutes. Segoro Anak is a small bay with the widest mangrove forest in East Java. Based on some research, it founds 26 kinds of 16-mangrove family that dominated with Rhizopora, Bruguiera, Avicenia and Sonneratia. Schypiphora hydrophylaceae and Ceriops decandra is the two kinds of rareness mangrove. This…
---