Agro Kusuma Tourism
---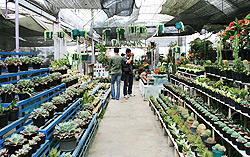 Agro Kusuma tourism is located in Ngaglik village, Batu district. One stop shooping service has implemented in Agro Kusuma Tourism. The unforgettable experience can found here after visiting apple plantation, flower, coffee, strawberry, and hydroponics vegetables (non- insecticide).
Agro tourism, which has supported by fancy hotels, lies in 17-acre plantation. This tourism object allows the visitors to pluck apple directly from tree. We just meet this interesting activity in Agro Kusuma tourism. You can pick the apples and oranges in the plantation area and tasted them. Feel the fresh and health fruit from its tree.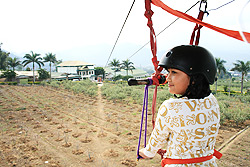 You may see the process of drying the coffee, or buy vegetables, which can cook soon. Since the plantation is wide, it can use for jogging, bicycling, playground and riding a horse. Besides, it has a mini zoo, camping ground, and swimming pool. Do not forget, before leaving Kusuma Agro Batu, you can buy souvenirs of its products, including; jenang, apple vinegar, and orange. We also able to enjoy various food products of Batu city, such as; apples, jamb, brem apple and strawberry.
Agro Kusuma tourism is facilitated with mini zoo, green house, bar, restaurant, coffee shop, warm swimming pool, badminton hall, tennis court, volley field, etc.
Photo Gallery

Latest News
Animal Museum Batu Secret Zoo is an official site of Jawa Timur Park or Jatim Park 2 that located in Batu city, East Java. Batu Secret Zoo is a modern zoo, complete with the high architectural design and numbers of animals' collection. This zoo can be accessed for about 30n minutes from Malang city or 90 minutes from Surabaya. Moreover, this location is also near to other recreational park, which is Batu Night Spectacular or BNS. By lying on 2 hectares land, there are three sections become the visitors' route…
---
Batu Secret Zoo Batu Secret Zoo is an official site of Jawa Timur Park or Jatim Park 2 that located in Batu city, East Java. Batu Secret Zoo is a modern zoo, complete with the high architectural design and numbers of animals' collection. This zoo can be accessed for about 30n minutes from Malang city or 90 minutes from Surabaya. Moreover, this location is also near to other recreational park, which is Batu Night Spectacular or BNS. By lying on 2 hectares land, there are three sections become the visitors'…
---
Songgoriti Temple Songgoriti is located in Songgokerto village, Batu district, under the hillside of Mount Panderman and has a hot spring pool. There is temple Songgoriti and Ganesha Statue as the empire omission of Singosari and Dutch era. Songgoriti Temple is located in a dale dissociating between mountainsides of Arjuna with mountainside of Kawi. This temple has built with a hot spring, which had believed able to heal various diseases. Seen from its simple architecture style, this temple classified as eldest temple in Central Java and the decoration described Central…
---
Batu Batu city is located in 800 meters above sea level, with cold temperature between 17-25,6 degree Celsius. Batu city is an area in East Java that surrounded by mountains. Geographically, Batu is a mountainous area. The potencies of this area are coming from the agro tourism properties, which is fruits, vegetables, mountain panorama and the hills. When the visitors visit to Batu city, the fresh mountain air will welcoming us. There are some tourism destination that most visitors visit regularly, they are; Jatim Park, Selecta, Songgoriti, Agro tourism, Coban…
---