Akbar Cave
---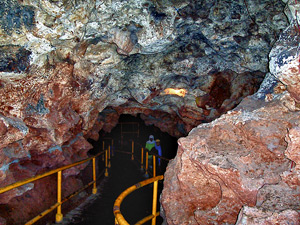 The unique thing of Akbar Cafe is the charming of its huge spaces and also its long tunnels. There are also many interesting scenery of cave which you can not find in other places. If we come in the cave we will see the river that flow calmly, in that river we will see the various fishes, which the water comes from water fall in the centre of the cave. You may feed the fish by throwing down a little piece of bread. In other part of space, called "Mahahandhapa Sri Manganti", the visitors will be presented with traditional music like Gamelan, Siteran and any other traditional music. Sometimes, there is a solo pionist or guitarist, and the visitors can involve in singing a song.

This cave has two sacred places called "Pasepen Kori Sinandi" and "Pasujudan Baitul Akbar". You have to put of your shoes when you are going to enter. It is forbiden for women who get menstruation.
The area of the cave has been opened about five hundred in square meter only. The long tunnels that are forty or fifty kilometers has been closed to avoid any danger. Small cafeteria is available, too. The slow music will accompany while you're enjoying the food and drinks.

That is the miracle of God as Mercy with dedicated to human in order to care and protect, finally it was to be enjoyed. Based on that case Mr. Haji Hindarto, head of regent of Tuban thought that, Akbar cave can be renovated to be a wonderful and amazing tourism object. So he began to realize his dream cames true. Finally, he built it up with the sense of art, and now we can see what wonderful it is.

The cave is located in the centre of the town. It is behind the traditional market "Pasar Baru". So you will not find any difficulties to get there. Come and see its beauty.

The Legend of Akbar Cave
* This cave had been used for training centre of Ronggolawe soldiers when they planned to attack Mojopahit Kingdom at 13th Century.
* This miracles cave was well-known as a hidden place of Raden Mas Sahid, a generous robber who finally regretted and becomes the saints of Islam (Wali Songo), with his popular name "Sunan Kalijaga" in 17th century.
Photo Gallery

Latest News
Siwalan Plantation Siwalan is a type of palm trees that grow in many coastal regions in hot and dry area with the sea breeze is blowing a little stronger. Tuban Regency and some areas along the north coast (Pantura) of Java, is the endemic place from Siwalan tree. One of the products from this fruit is Legen, which the water of the fruit. It sweet and fresh and can be fermented into tradition liquor called tuak. While the fruit of siwalan is having sweet and chewy texture like jelly. More…
---
Legen Legen is such a traditional beverage coming from Tuban, East Java. Legen is taken by the Siwalan tree which almost spread all over Tuban. Originally, Legen is the first water of Siwalan with taste of sweet and fresh, without being fermented. After getting fermented legen is change to be Tuak. Tuak is now become a traditional alcohol beverage with strong and heavy taste, and of course, tipsify. More info visit: www.eastjava.com
---
Batik Gedog Batik Gedog is a traditional painting Batik from Tuban – East Java. Kerek, a region of Tuban is well known as central of Batik Gedog. Mostly the Batik Gedog's artisan is come from Kerek. This kind of Indonesian Batik is a masterpiece of cultural creation which the existence still accepted by society until now. There's many value of art and cultural content that represented by the Batik, so that this kind of batik have its own special characteristic. Tuban, as one of the town which located in the…
---
Batik Gedog Batik Gedog is a traditional painting Batik from Tuban – East Java. Kerek, a region of Tuban is well known as central of Batik Gedog. Mostly the Batik Gedog's artisan is come from Kerek. This kind of Indonesian Batik is a masterpiece of cultural creation which the existence still accepted by society until now. There's many value of art and cultural content that represented by the Batik, so that this kind of batik have its own special characteristic. Tuban, as one of the town which located in the…
---