Sunan Bonang Graveyard
---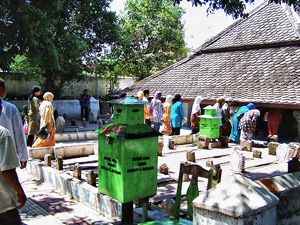 Sunan Bonang is one of "Wali Songo", the preachers in Islam. This grave is located at the center of the town, exactly behind the Great Mosque (Masjid Agung), beside Tuban square. This grave complex is stated in Bektiharjo village, Semanding district, about 5 Km from the centre of the city to the South side. It is not far from the centre of Tuban Regency government.
Every day, this grave is often visited by the domestic and foreign pilgrim who came to Tuban with the wish and their respective requirement. The visitor will explore when the "Haul" (special anniversary for death person) is held, that is in every Thursday Pon (Javanese day) in Muharram month (Islamic Calendar).

Water that left from this grave complex was believed in usefull and almost the pilgrim drank and brought it home as present that was believed can brought a blessing. This grave complex also has a swimmingpool with national standard that was filled directly from the natural resources.

Latest News
Siwalan Plantation Siwalan is a type of palm trees that grow in many coastal regions in hot and dry area with the sea breeze is blowing a little stronger. Tuban Regency and some areas along the north coast (Pantura) of Java, is the endemic place from Siwalan tree. One of the products from this fruit is Legen, which the water of the fruit. It sweet and fresh and can be fermented into tradition liquor called tuak. While the fruit of siwalan is having sweet and chewy texture like jelly. More…
---
Legen Legen is such a traditional beverage coming from Tuban, East Java. Legen is taken by the Siwalan tree which almost spread all over Tuban. Originally, Legen is the first water of Siwalan with taste of sweet and fresh, without being fermented. After getting fermented legen is change to be Tuak. Tuak is now become a traditional alcohol beverage with strong and heavy taste, and of course, tipsify. More info visit: www.eastjava.com
---
Batik Gedog Batik Gedog is a traditional painting Batik from Tuban – East Java. Kerek, a region of Tuban is well known as central of Batik Gedog. Mostly the Batik Gedog's artisan is come from Kerek. This kind of Indonesian Batik is a masterpiece of cultural creation which the existence still accepted by society until now. There's many value of art and cultural content that represented by the Batik, so that this kind of batik have its own special characteristic. Tuban, as one of the town which located in the…
---
Batik Gedog Batik Gedog is a traditional painting Batik from Tuban – East Java. Kerek, a region of Tuban is well known as central of Batik Gedog. Mostly the Batik Gedog's artisan is come from Kerek. This kind of Indonesian Batik is a masterpiece of cultural creation which the existence still accepted by society until now. There's many value of art and cultural content that represented by the Batik, so that this kind of batik have its own special characteristic. Tuban, as one of the town which located in the…
---