Tanjung Tembaga Port
---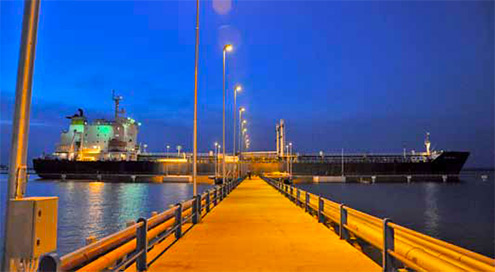 The fish auction and fish market is one of the favorite places to visit in Probolinggo. The auction is an activity of transaction between the seller and buyer in one place. It's on the north side of Probolinggo, or called Port Probolinggo. Probolinggo city has two ports. The first port is Tanjung Tembaga which is a historical seaport, because formerly for Japanese colonial era this port as a Japanese troops landing and loading purposes of colonization.
In the development of Tanjung Tembaga port transformed into a fish port, loading and unloading of large ships, this ports as inter-island transit port for vessels from other areas.
Tanjung Tembaga port is central fish market offers serene views of surrounding the sea. The fish auction is always crowded with visitors and shoppers during the day, when the fishermen had returned from fishing. About 1 pm, the auction begins. Fresh fish can be bought through a bargaining process. You will get cheap fish, if the fishermen bringing in the catch were abundant. On the other hand, you can participate in fishing activities around the harbor or rent a boat to get more fish. You can also enjoy views of the ocean and Gili island. On the coast, there is a fish market located behind the fish auction. The market sells fresh fish. You can buy a relatively cheap price to bid first.
The society of Probolinggo often travel to the Tanjung Tembaga port and fish market. Also the scenery and atmosphere served pretty well. Admission fee is only levied on motor vehicles. Located in the downtown of Probolinggo, make Tanjung Tembaga port as the favorite destination for the society of Probolinggo.

Latest News
Gili Ketapang Gili Ketapang is a village and a small island in the Madura Strait, exactly 8 km off the north coast of Probolinggo. Administratively, the island includes the District of Sumberasih, Probolinggo, East Java. Its area is about 68 hectare, and most of the inhabitant are Madura tribe whose live as fisherman. The population of the island is known for relatively affluent. Gili Ketapang is one of natural destinations in Probolinggo. The island is connected to Java island, which can be reach by boat through the Port of Tanjung…
---
Mask Puppet Mask puppet is other form of Puppet shows in East Java. Mask puppet is growing in Malang, Probolinggo, Situbondo and Sumenep. The show is like a human puppet, which the puppet played by the human players using mask. The story itself based on Mahabarata and Ramayana classic story, but in Topeng of Malang, there is also Panji's story, a classic Javanese hero. More info www.eastjava.com
---
Tenggerese People Tenggerese or Tengger People is one of Indonesian tribes that live around Bromo Mountain which located around Pasuruan, Lumajang, Probolinggo and Malang Regency. The Tenggerese are the descendants of the Majapahit Princes. Their population is about 600.000 inhabitants within thirty villages. Tenggerese are being known as obedient Hindu followers. For them, Bromo Mountain is sacred. In once in a year they held ceremony of Kasada or Yadnya Kasada as a thanks giving to the Lord. This ceremony is always held in midnite in full moon time around date…
---
Tengger People Tenggerese or Tengger People is one of Indonesian tribes that live around Bromo Mountain which located around Pasuruan, Lumajang, Probolinggo and Malang Regency. The Tenggerese are the descendants of the Majapahit Princes. Their population is about 600.000 inhabitants within thirty villages. Tenggerese are being known as obedient Hindu followers. For them, Bromo Mountain is sacred. In once in a year they held ceremony of Kasada or Yadnya Kasada as a thanks giving to the Lord. This ceremony is always held in midnite in full moon time around date…
---